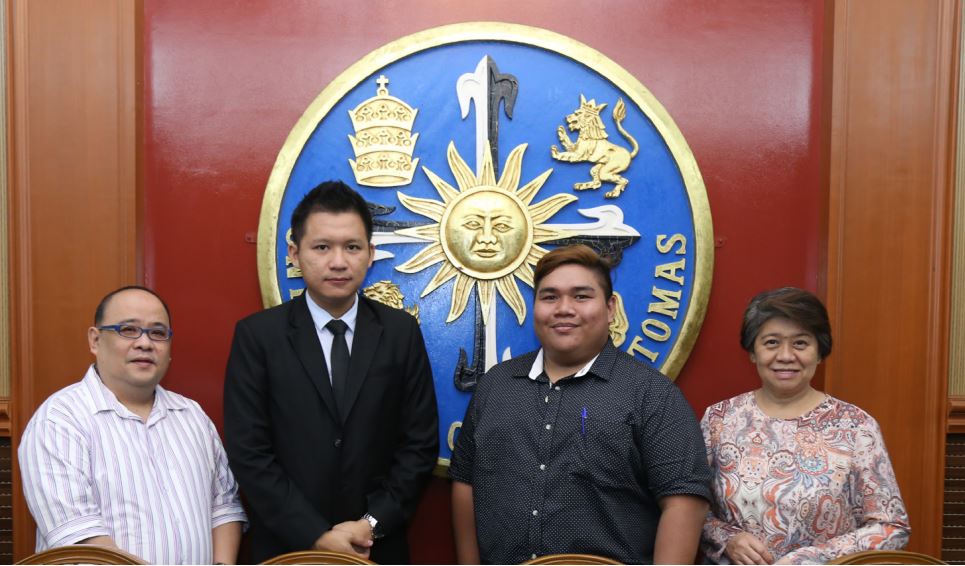 South East Asia Regional Sales Manager of QS Intelligence Unit Mr.
E Way Chong visited the University of Santo Tomas through the Commission on Higher Education (CHEd) in coordination with the UST Office of International Relations and Programs (OIRP) and the Quality Management Office (QMO) for the purpose of meeting the QS ranked Philippine universities.
The meeting took place on June 28, 2018. Chong conducted a short presentation on the QS Analytics that consists of four products such as academic reputation dataset, employer reputation dataset,
ranking tracker, and subject rankings tracker.
During the discussion that followed, CHEd Project Support Staff Mr. Renz
Tibigan, inquired if the QS Analytics presented is needed by Philippine
universities for possible subscription to the said QS product offerings.
Chong explained that CHEd's decision to subscribe to the QS Analytics
depends on the inputs and feedbacks from the Philippine universities. Tibigan added that CHEd should therefore disseminate such information ahead of time and brief the selected universities that are part of his (Chong) Philippine trip.

In this visit to UST, Chong and Tibigan were welcomed by the Office of Public Affairs Director Assoc. Prof. Giovanna V. Fontanilla, Ph.D., QMO Director Assoc. Prof. Joehanna K. Ngo, ASEAN Eng, and QMO Assistant
Director Engr. Nestor R. Ong, ASEAN Eng.

Part of Chong's itinerary included a University tour comprising of the UST
Museum, the Miguel de Benavides Library, the Office for Alumni Relations,
and the Educational Technology Center.

He was accompanied by the Assistant to the Director for Public Affairs Asst.
Prof. Lorna T. Paras. Chong's visit to the Philippines is part of the engagement with the government, and he would have to visit the Philippines twice or thrice a year. He also invited the OIRP and QMO
administrators to attend the QS University Rankings: South East Asia Performance and Improvement Seminar, taking place on August 8, 2018 in Manila.
The seminar, organized by Quacquarelli Symonds (QS), best
known for World University Rankings and worldwide student fairs, is a
one-day event, where participants gain comprehensive insights into the
methodologies used to create the QS World University Rankings, QS Asia
Rankings, and QS World Rankings by Subject.

The participants also analyze and discuss how university rankings impact universities' reputation and international student recruitment; get thorough insights into Philippines' performance in rankings,
based on regional and international comparisons; gain better knowledge
and understanding of the Academic and Employer Reputation metrics, and how they impact universities' performance. Registration to the event is free to all academic officials and administrators from Philippine universities.