The UST Simbahayan Community Development Office cluster responsible for advocating inclusive and equitable education, Dunong Tomas, promoted responsible voting to empower the voters through 'Boto Pilipino: Boto mo para sa Pagbabago', a year-long voter education and engagement advocacy campaign. The webinar series with the theme 'The ABCs of Voting' ran from November 2021 until May 2022, with the official launch held last November 27, 2021.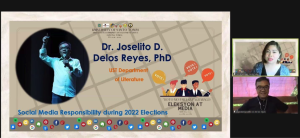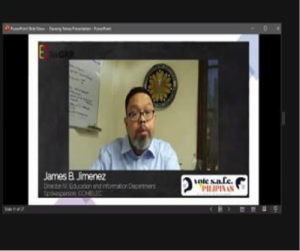 In a series of five webinars, spread across the duration of the advocacy campaign, several resource speakers were invited throughout the webinar series to discuss various topics connected to the 2022 national and local elections. Topics included (a) basic voter education, (b) importance of the candidates' environmental platforms, (c) history of voting in the Philippines, (d) responsible use of social media during the elections, (e) why our vote should be a holy vote, and (f) post-election call for electoral reform, vigilance, and social responsibility. In the last leg of the webinar series which was held after the recent national elections, the importance of remaining informed about political issues and being engaged in relevant discussions in the country were themes highlighted in the webinar.
Held last May 21, the need for post-election reflection and analysis were underscored by the resource speakers namely Faculty of Arts and Letters Secretary Asst. Prof Ma. Zenia M. Rodriguez, and UST Faculty Researcher Asst. Prof. Ronald M. Castillo.
Other speakers from the past webinars include, Greenpeace Philippines Communications Campaigner Mr. Maverick Flores and Living Laudato Si' Philippines Executive Director Mr. Rodne R Galicha who both focused on the environmental effects of the election season; Rev. Fr. Virgilio A. Ojoy, O.P. from Colegio de San Juan de Letran who discussed the role of Philippine History and Social Justice; UST Creative Writing Program Coordinator Asst. Prof. Joselito D. De Los Reyes, Ph.D. who underscored the impact of social media responsibility during the elections; and Dominican Promoter for Justice, Peace, and Care of Creation Sr. Teresa Dagdag who spoke about the importance of choosing the "holy vote". Commission on Elections (COMELEC) Director James B. Jimenez was also present during one of the webinars.
The cluster members who organized this year's Dunong Tomas include the UST Junior High School, College of Education, College of Information and Computing Sciences, Senior High School, and UST Simbahayan.