The Department of Science and Technology (DOST), in partnership with the University of Santo Tomas held a soft launch of the DOST-TOMASInno Center, a technology business incubator (TBI), on November 15, 2019 at the UST Blessed Pier Giorgio Frassati, O.P. Building.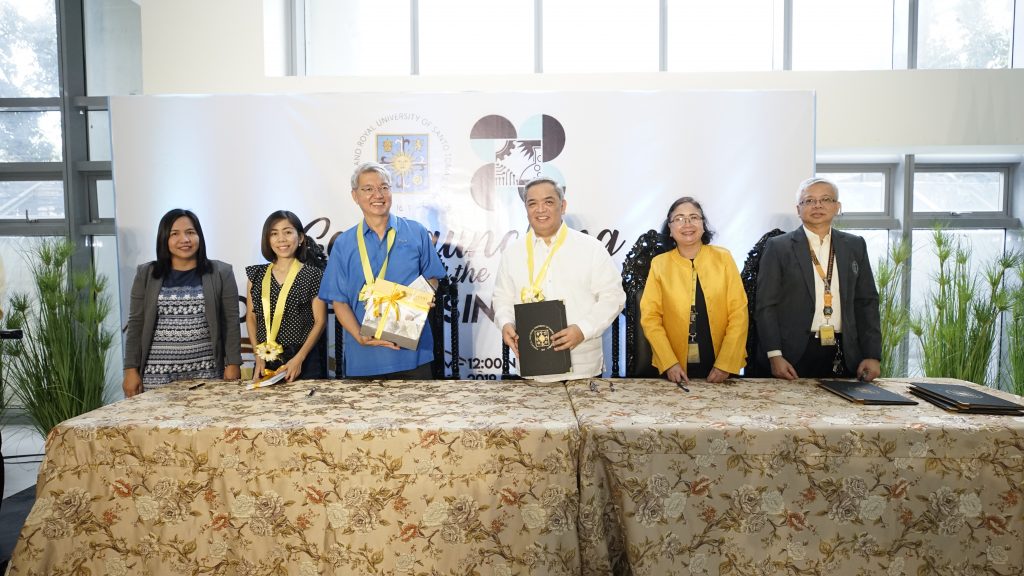 Serving as the TBI Manager is Engr. Raymond A. Marquez while its TBI Assistant Manager is Assoc. Prof. Michael Francis D. Benjamin, Ph.D.
To mark the beginning of the Center, four partnership agreements with government and industry institutions were signed, namely, with DOST- Philippine Council for Industry, Energy and Emerging Technology Research and Development (PCIEERD), Santeh Feeds Corporation, Jollibee Group Foundation, Inc., and D&L Industries.
Representing the University of Santo Tomas for the signing were UST Rector Very Rev Fr. Herminio V. Dagohoy, O.P., Vice Rector for Research and Innovation Prof. Maribel G. Nonato, PhD., and Engr. Marquez.
The first agreement, a memorandum of understanding between UST and DOST-PCIEERD, formalized the partnership between the two institutions. PCIEERD, which manages the Technology Business Incubation (TBI) program of the government, provided the research grant that made the TOMASInno Center possible through the Higher Education Institution Readiness for Innovation and Technopreneurship (HeIRIT) program. Representing DOST-PCIEERD were its Deputy Executive Director Raul Sabularse and Chief Science Research Specialist Russell Pili.
According to the PCIEERD website, a TBI is "an ecosystem where innovation is promoted and supported towards commercialization" and helps technology-based business startups "by providing a range of resources, services, and facilities needed during the development stage." By the time a business finishes the incubation program, it should be financially viable and ready to compete in the market. DOST's TBI program has three main objectives: creating jobs, developing entrepreneurs, and promoting public-private partnerships in regional economic development.
The partnership agreement between Santeh Feeds Corporation (SFC), represented in the signing by Chairman Phillip Ong and Administrative Manager Dhonna Noreiga, involves a licensing agreement for the Juan Amplification (JAmp) Primer, a diagnostic tool used for early detection of the white spot syndrome virus (WSSV) in shrimps.
The aforementioned primer developed by Prof. Mary Beth B. Maningas, Ph.D., and her team of investigators originally won the Outstanding Invention Award (Tuklas category) during the 2018 National Invention Contest and Exhibits (NICE) of the DOST Technology Application and Promotion Institute (DOST-TAPI). According to the DOST Philippine Council for Agriculture, Aquatic, and Natural Resources Research and Development (PCAARRD) website, the primer kit uses loop-mediated isothermal amplification (LAMP) assay for the detection of WSSV and "helps in improving farm management practices and reduce the country's dependence on expensive and imported diagnostic kits."
For the partnership with the Jollibee Group Foundation, Inc. (JGFI), UST joined its Learning Express – Farmer Entrepreneurship Program (LEx-FEP) initiative, which trains local farmers on agro-entrepreneurship, and according to the JGFI website, builds "their capacities to supply vegetables in a manner that meets the standards and requirements of corporate buyers while ensuring farmers make a profit." Representatives of JGFI included its Vice President Ms. Bellen Rillo, Executive Director Ms. Gisela Tiongson, and Program Officer Ms. Sharleen Alayat.