Institute of Information and Computing Sciences faculty member Asst. Prof.
Mylene J. Domingo received the Excellent Paper Award on August 18, 2018 for the research titled "Institute of Information and Computing Sciences Department Management System." The paper was presented at the 4th International Conference on Contemporary Issues in Science, Engineering, and Management ICCI-SEM held in Selangor Darul Ehsan in Kuala Lumpur, Malaysia.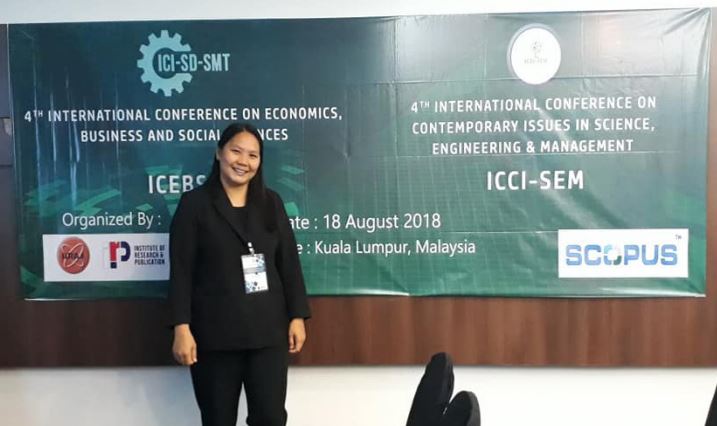 The paper, which was based on the capstone research prepared by Quennel
Gio Y. Domingo, Coleen P. Sy, Jed-Louis Chee Hooi L. Teoh, under the supervision of Asst. Prof. Domingo, detailed the document management system designed by the students themselves, who already graduated in May 2018.
The system provided a central repository of documents accessible to the
users at any given time.
Domingo explained that the paper she presented discussed the IICS Document Management System (DMS) which is a method wherein files and documents of the Institute are stored and managed. The system is used to accurately disseminate and monitor official communications of the Institute to know whether it has reached target recipients in a timely manner. Another function of the DMS is event invites which is used for inviting participants to events such as meetings, through its calendar feature. This DMS will be beneficial to the administrators, faculty and staff of the IICS.
The researchers used Scrum as the method for the research.
Domingo, who once served as the Institute Secretary of IICS, explained that Scrum is an agile methodology that developers use in creating a system which is also considered as one of the leading agile methodologies.
In Scrum, the features of the system are broken down into smaller modules called sprints. The sprints are prioritized based on its level of importance and at the end of every sprint Agile, Scrum encourages to deliver the software incrementally instead of releasing it all at the end.

The other awardees were: Siti Radhiah Omar of the Faculty of Science and
Technology, Universiti Sains Islam Malaysia who received the Young Researcher's Award (female category), and M.H.Othman of the
Faculty of Mechanical and Manufacturing Engineering, Universiti Tun Hussein Onn Malaysia (UTHM) who received the Young Researcher's Award (male category). His study was the Modeling of Integral Hinges via CADMOULD 3D-F Injection Moulding Simulation.