Keynote lectures at Universitas Kristen Indonesia in Jakarta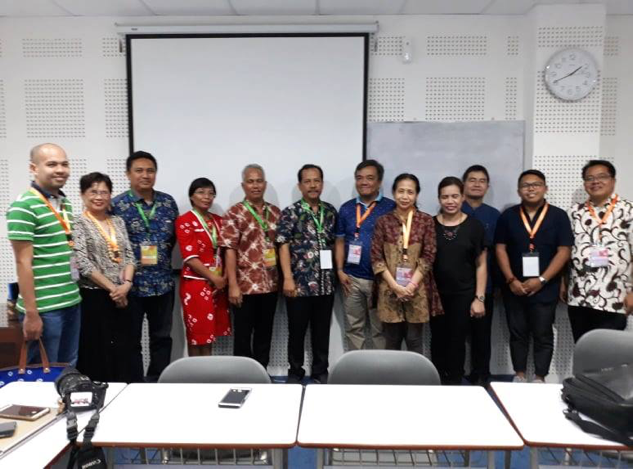 Selected faculty members of the Department of Literature of the University of Santo Tomas (UST) together with representatives from the Department of English of Ateneo de Manila University attended Lustrum Sastra XIII, an international conference on Communication and Literature hosted by the Universitas Kristen Indonesia (UKI) held on October 7, 2018 at the Gedung Graha William Soerdjaya Hall at UKI Jakarta, Indonesia.
UST Literature Department Chair Asst. Prof. Joselito D. De Los Reyes, Ph.D., UST Research Center for Culture, Arts and the Humanities Director Prof. Joyce L. Arriola, Ph.D., UST Scholar-in-Residence Prof. Luisa Torres-Reyes, Ph.D., delivered keynote lectures on important social communication and literary issues in the ASEAN region. Meanwhile, Asst. Prof. Ma. Eloisa Sevilla-Perez moderated a workshop for an audience composed mainly of UKI senior college students majoring in English.
De los Reyes presented "The Assault that is the Social Media," while Arriola presented "Introduction to communication and media studies."
The literary (sastra, in Bahasa Indonesia) conference conducted every five years (lustrum) with the theme "Imagining Asia and the World in Today's Literature and Media," was sponsored by the UKI Faculty of Letters, headed by its Dean Prof. Ied Veda Sitepu, Ph.D., and UKI College of Arts and Education, led by its Dean Dr. Susanne Sitohang.
Paper presentation at Universitas Sanata Dharma, Yogyakarta
In a related development, the same mentors presented their academic papers at the 6th Literary Studies Conference, an international conference held from October 11 to 12, 2018 at the Universitas Sanata Dharma (USD) in Yogyakarta, Indonesia.
Dr. De Los Reyes, Prof. Torres-Reyes, Ph.D., Prof. Arriola, Ph.D., and Asst. Prof. Sevilla-Perez, presented their academic papers in the conference with the theme "Re-Imagining Difference and Extremism: Regional and Global Perspectives."
De Los Reyes presented "Text and Context: The Cinemafication of the 'State of the Nation Address' of the Duterte Presidency," Arriola presented "The ex-centric characters and their version of Filipino anti-colonial struggle in Eric Gamalinda's 'My Sad Republic,'" Perez expounded on "Articulating cultural trauma in reconstructing collective identity: Extremism in South East Asian fiction."
Both Reyes and Arriola served as moderators in the closing program.
The international conference also paved the way for exploring the possibility of an exchange program between UST, USD, and Universitas Gajah Mada for students and faculty members as part of the Asian Literature diversification program to stay committed in the partnership of the said universities.