Engr. Florencio D. delos Reyes of the UST Department of Chemical Engineering (ChemE) was awarded the Best in Oral Presentation during the 2016 Pure and Applied Chemistry International Conference (PACCON 2016) held last February 9-11, 2016 in Bangkok International Trade and Exhibition Center. The Best Oral Presentation Award was chosen under the Materials Chemistry and Nanotechnology session, with the biggest number of registered participants (44 oral presentations and more than 100 poster presentations).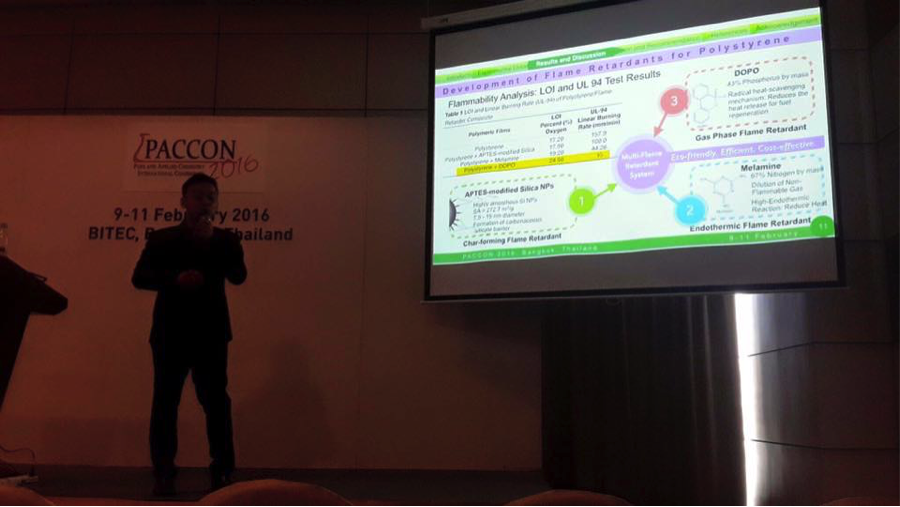 Engr. Delos Reyes's presentation was entitled "Surface-modified rice husk-derived silica nanoparticles as flame retarder in polystyrene". It is about the development of multi-flame retardant system using surface-modified silica nanoparticles obtained from rice husks, for production of efficient, non-toxic, and cost-effective flame retarders for highly combustible materials. His research is funded by the National Research Council of Thailand (NRCT) and Thammasat University. It is also supported by DOST-PCIEERD through the BCDA sandwich program grant.
PACCON 2016 was organized by the Faculty of Science of Chulalongkorn University together with the Chemical Society of Thailand, as part of the 100 years anniversary of the establishment of Chulalongkorn University. The theme this year is "Thailand: One hundred Years of Advancement in Chemistry". A total of 1,321 participants, including 135 international delegates from 25 different countries, joined the conference. The conference featured 12 scientific sessions, 7 special sessions, and 4 special activities.