UST College of Education Dean Pilar Romero, PhD., led regional research caravans organized by the Catholic Educational Association of the Philippines (CEAP). The session was for Regions 6, 7, 8, and the Negros Island Region, was held on October 20, 2021. The first session for CEAP member institutions in Region 1 took place via Zoom on September 10, 2021,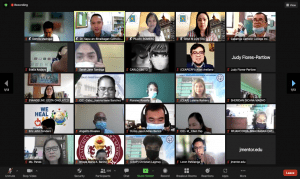 Romero, who also serves as the chair of CEAP Research and Development Committee, joined CEAP President Sr. Marisa Viri, RVM, and CEAP Executive Director Mr. Jose Allan Arellano in reminding the participants about their commitment to research and development, even during challenging times like the current pandemic. 
More than 300 Catholic educators participated in each event. They fostered conversations for research mentors about the rewards and challenges of the craft and provided a forum for research collaborations among institutions.
Dr. Gina Lontoc, who teaches at UST College of Education and UST Graduate School, was one of the speakers. She shared the current state of research in Catholic higher education institutions (CHEIs), in terms of opportunities, challenges and rewards.
Highlighting collaborative international research programs that serve as the lifeblood of sustainable communities, Lontoc presented sample research outputs, research dissemination strategies, and funding opportunities.
Meanwhile, University of Negros Occidental Recoletos Graduate School Dean Dennis Madrigal, Ph.D., tackled the challenges in transformative research. "Common alleyways" of doing research could hinder creative ingenuity essential in discovering new things that have value in the future, he explained.
Other concerns that were raised included balancing research and teaching load, institutional support for faculty researchers, and the formation of research groups per region.