UST College of Nursing Dean Prof. Rowena L. Escolar Chua, Ph.D., served as one of the keynote speakers in the virtual Asia Pacific Bioethics Education Network (APBEN) Conference. Hosted by Deakin University in Australia, the online conference was held from May 27 to 30, 2021.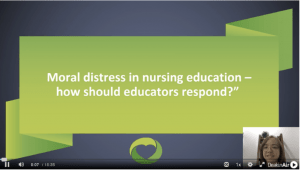 Dean Escolar Chua's speech, titled "Moral distress in nursing education: How should educators respond?" acknowledged how the pandemic and its consequent restrictions on mobility have forced nursing educators to rapidly change their way of working to manage remote teaching and learning, often with little lead-time. While some educators have been positive, responsive, and solution-focused, for many, this transition has not been easy, particularly in areas where there is limited connectivity."

Despite the challenges to teachers and students during this pandemic, Escolar Chua emphasized that there remains a vast array of opportunities on how to foster nursing educators' wellbeing "that encourages building and strengthening caring relationships with one another and prioritizes designing and sustaining classrooms where everyone feels emotionally and physically safe and supported."

Besides Escolar Chua, other scholars who served as speakers were: Monash University Pro Vice-Chancellor (Indigenous) Professor Jacinta Elston, Australian Health Practitioner Regulation Agency (AHPRA) Chief Executive Officer Mr. Martin Fletcher, DePaul University Department of Health Sciences Professor Craig M. Klugman, Forum for Medical Ethics Society Chairperson and surgeon Dr. Sanjay Nagral, and Australia and New Zealand Medical Radiations Research Network Chair Assoc. Prof. Caroline Wright.

A bona fide Thomasian, Escolar Chua obtained all her degrees, namely, Bachelor of Science in Nursing (1993), Master of Arts in Nursing (2004), and Doctor of Philosophy in Development Studies (2012) from the University of Santo Tomas.