Assoc. Prof. Augusto V. de Viana, Ph.D., the program lead for History Graduate Programs of the UST Graduate School delivered a lecture at the 8th Quincentennial Lecture Series held on April 30, 2021. The Quincentennial Lectures Series was part of the nationwide activities commemorating the arrival of the Magellan expedition in the Philippines and the Christianization of the country.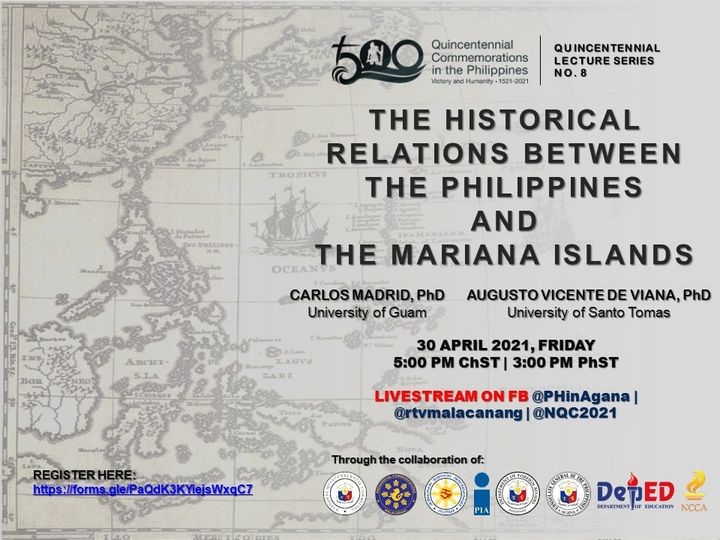 The eighth lecture series which was dubbed "The Online Lecture/Dialogue on the Historical Relations Between the Philippines and the Mariana Islands," was sponsored by the Department of Foreign Affairs through the Office of the Consul General in Agaña, Guam.

The program began at 3:00 pm (Manila Time, 5:00 Guam Time ) with the welcome remarks delivered by the Acting Head of Post Consul Ferdinand P. Flores, and a message from Hon. Ernesto C. Abella, Undersecretary for Strategic Communications and Research of the Department of Foreign Affairs.

In his lecture titled, "Across the Waters into the Far Islands," De Viana discussed the events in Guam during the arrival of Ferdinand Magellan in 1521, the colonization of the Mariana archipelago in 1565, and the coming of the Christian missionaries and the establishment of the Mariana Islands mission in 1668. He also discussed the linkage of the natives of the Philippines in the Mariana Islands from the earliest to the early American period and the important historical developments which affected both regions.

The renowned historian mentioned the role of the natives of the Philippines in the Marianas including the role of Christian missionaries like San Pedro Calungsod and the members of the Spanish mission who were natives of the Philippines. He also discussed the Chamorro Wars and the decline of the native population which was replenished through migration from the Philippines and the Carolines.
The Mariana Islands were also made as a place of exile for Filipinos among whom were Melchora Aquino, Segunda Fuentes and the soldiers suspected of being sympathetic to the Katipunan. He also discussed the experience of Apolinario Mabini who was among the Filipinos exiled to Guam during the early American period.

De Viana explained the importance of remembering the past in order to understand the present. He said that despite the regions of the Western Pacific, the Philippines becoming a Republic in 1946, along with Palau and the Federated States of Micronesia which became independent states, Guam remaining a US Territory and the Northern Marianas becoming a US Commonwealth, the historical and cultural links between the Philippines and these islands remain and these links are a guide in envisioning their shared future.