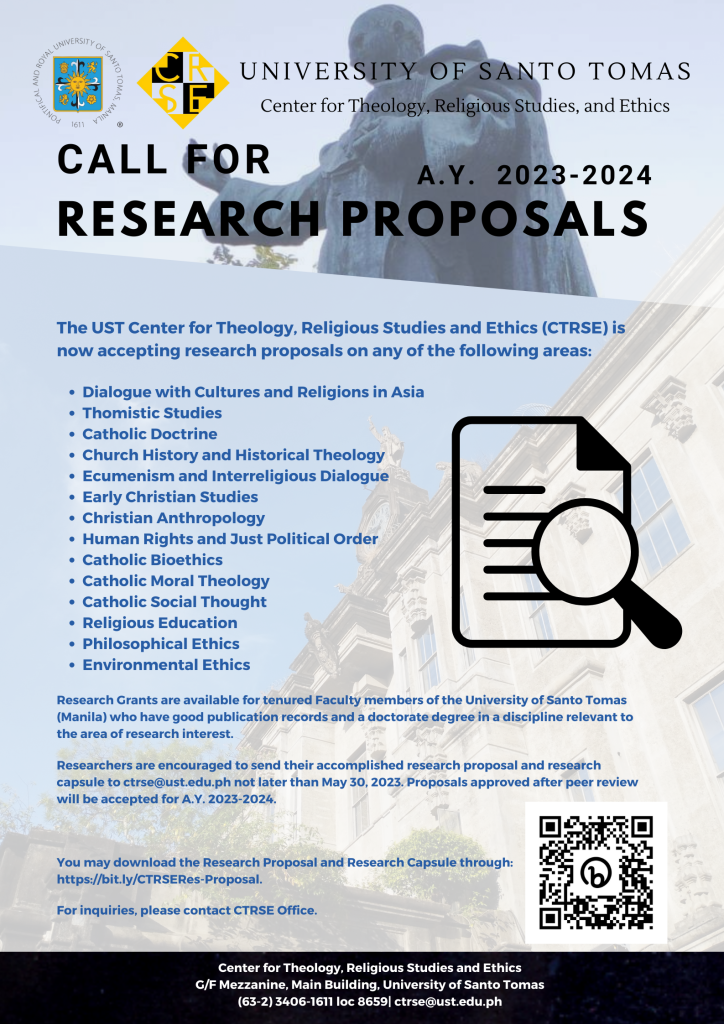 The UST Center for Theology, Religious Studies and Ethics (CTRSE) is now accepting research proposals on any of the following areas:
Dialogue with Cultures and Religions in Asia
Thomistic Studies
Catholic Doctrine
Church History and Historical Theology
Ecumenism and Interreligious Dialogue
Early Christian Studies
Christian Anthropology
Human Rights and Just Political Order
Catholic Bioethics
Catholic Moral Theology
Catholic Social Thought
Religious Education
Philosophical Ethics
Environmental Ethics
Research Grants are available for tenured Faculty members of the University of Santo Tomas (Manila) who have good publication records and a doctorate degree in a discipline relevant to the area of research interest.
Researchers are encouraged to send their accomplished research proposal and research capsule to ctrse@ust.edu.ph not later than May 30, 2023. Proposals approved after peer review will be accepted for AY 2023-2024.
You may download the Research Proposal and Research Capsule through: https://bit.ly/CTRSERes-Proposal.
For inquiries, please contact the CTRSE Office.