Two research teams from the College of Tourism and Hospitality Management under the BS Hospitality Management – Culinary Entrepreneurship Program presented their culinary heritage research during the international virtual symposium entitled "Traditions of Food in Southeast Asia: In Trace of Southeast Asia's Food Culture," organized by the Southeast Asian Ministers of Education Organization Regional Centre for History and Tradition (SEAMEO CHAT). It was held on January 26 and 27, 2023 (Thursday and Friday) through Zoom Meetings. The event's objective concentrated on the awareness and significance of food culture in the region, highlighting its similarities and diversities.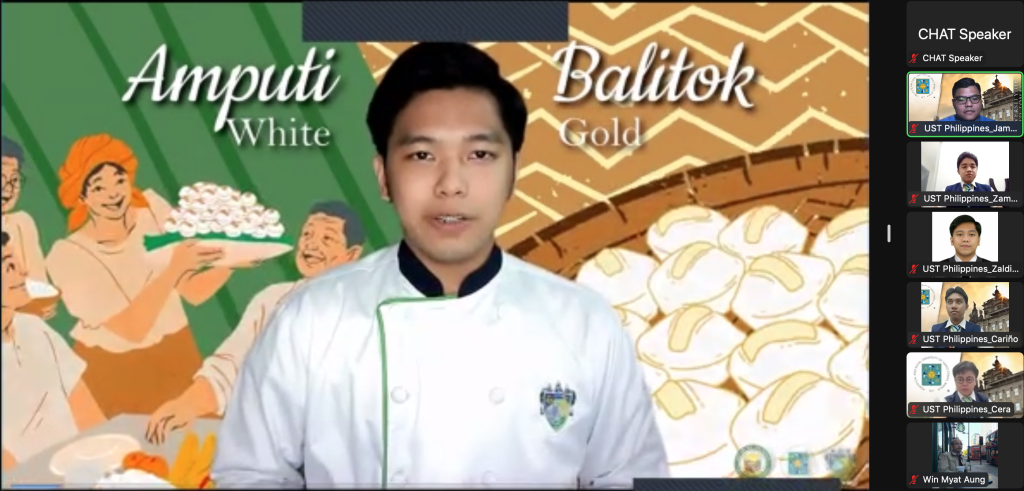 The first research, entitled "Amputi Balitok (White Gold): Explicating the Culinary Significance and Safeguarding Dimensions of Puto Calasiao in Pangasinan, Philippines," was presented by Dylan M. Cariño, Victor Ian P. Cera, Ma. Sophia J. Medina, Louise Orlane R. Reyes, Arrian Karl A. Zaldivar, and Thomas Dominic M. Zambrano. The research was in partnership with the Municipal Government of Calasiao, Pangasinan. It was co-authored by Ms. Tammy Marie C. Fernandez (Municipal Tourism Officer) and Mr. Gerald L. Quinit (Municipal Agriculturist).
Karen Grace V. Aster, Jaime Ramir B. Castillo, Shekaina R. Cheng, John Paulo L. Trillana, and Ysabella Marie B. Varlez presented the second research. They shared their research entitled "Sawsawan: Explicating the Culinary Heritage Significance of Philippine Condiments using Bibliometrics (1972 – 2018)".


Both teams were mentored by co-author Mr. Jame Monren T. Mercado from the Department of Tourism Management.