The University of Santo Tomas College of Tourism and Hospitality Management (UST CTHM) and the City Government of Davao are partners in a project that would develop the Davao City Meetings, Incentives, Conventions, and Expositions (MICE) Strategic Master Plan (SMP).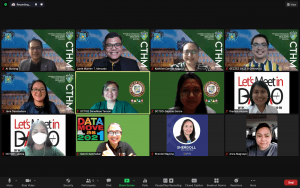 The project's main objective is to provide guidance and to address the needs of the private sector and the City Government of Davao on the development and implementation of their MICE programs.
The project aims to assess the current situation of the Davao MICE industry, with respect to its environments and competitions, as well as existing programs, infrastructures, and strategies; conduct an inventory of tourism and hospitality products that may align with the competitive advantages, proposed strategies, and possible future programs for MICE for Davao.
The SMP will also identify and determine short-term and long-term objectives and strategies for both the private sector and the local government in the implementation of its MICE programs and plans.
The project will develop a comprehensive Strategic Master Plan for MICE for Davao, which will contain the necessary directions, objectives, and strategies as well as policies and supporting data that will serve as a guide for both the local government and the private sector; and design a monitoring and evaluation process that can help the stakeholders determine the effective programs and improve the opportunities seen in the implementation of the SMP. The motivation for this project is Davao's vision of becoming the MICE hub of Asia.
The project started in June 2021 and will end in December 2021. Virtual meetings, presentations, and focus group discussions were conducted to determine the current situation of the city's MICE industry. The project team, also known as #TeamDavaoCityMICE, is headed by the UST CTHM Dean Gezzez Giezi G. Granado, DCL.
The members of the team include Asst. Prof. Jane G. Devanadera (Project Consultant), Mr. Jame Monren T. Mercado (Project Coordinator), Ms. Kathrine Camille A. Nagal (Writer/Researcher), and Mr. Arnulfo Ricardo A. Butiong (Writer/Researcher).
The project is in collaboration with the City Tourism Operations Office (CTOO), the Davao City Tourism Association, Davao City MICE Core Group, the Department of Tourism Region 11, and the Tourism Promotions Board – MICE Department.
CTOO head Ms. Regina Rosa D. Tecson explained that the project would provide a strategic direction to sustainably promote and develop the touristic identity of Davao City as a world-class MICE destination in the country and the ASEAN region. It will also provide the action plans on implementing MICE-related programs and projects in this new and next normal.