A Memorandum of Agreement was signed between the University of Santo Tomas and Cut Unlimited for the 15th Philippine Food Exposition 2023. The signing took place on February 6, 2023 in UST.
Cut Unlimited, with over 22 years of experience in trade shows and agribusiness, was represented by Ms. Mayose G. Bautista, Director of PhilFoodEx Inc., and Ms. Aprille Robles, Project Manager of PhilFoodEx Inc., who signed the MOA along with the Vice-Rector for Academic Affairs of the University of Santo Tomas, Prof. Cheryl R. Peralta, DrPH, PTRP, and the Dean of the College of Tourism and Hospitality Management, Assoc. Prof. Gezzez Giezi G. Granado, DCL. This partnership represents a significant step forward for both organizations and will provide opportunities for them to collaborate on various initiatives aimed at promoting Filipino culture, heritage, and culinary traditions.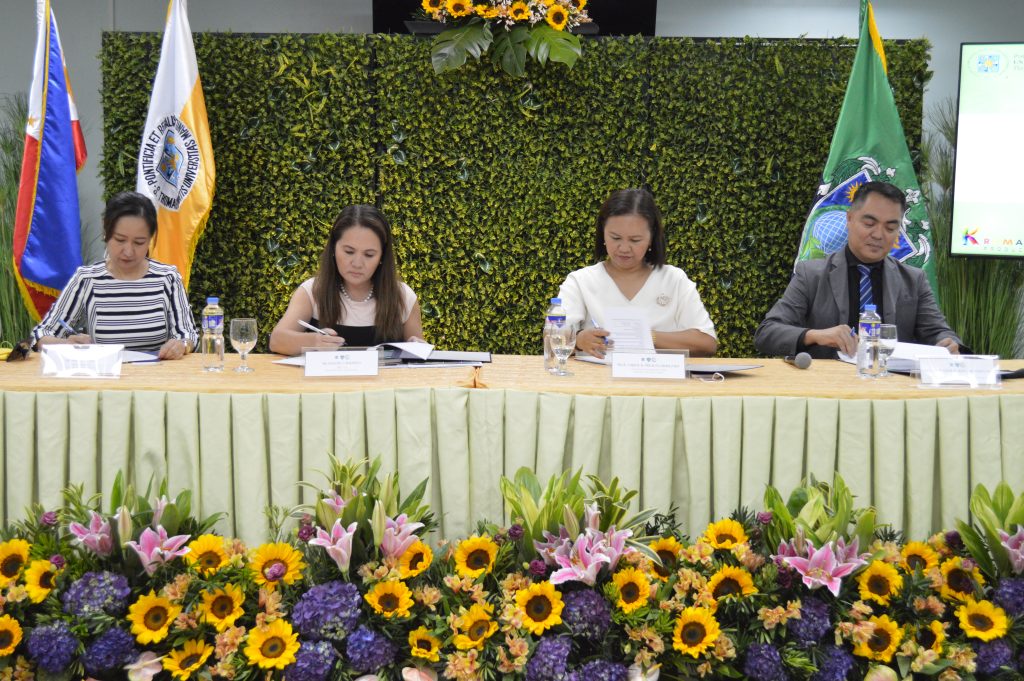 Dean Granado mentioned in his Opening Remarks the significance of the partnership between the two parties: "it is not just about competing, but about hosting prestigious culinary events." Granado emphasized the importance of promoting the culinary arts and showcasing the best of Filipino cuisine to the world. At the previous Philippine Food Exposition, 21 booths representing Luzon, Visayas, and Mindanao were present, showcasing a variety of Filipino cuisine. The occasion served as a symbol of the Filipino cuisine movement's rising popularity, which promotes regional foods and raises crucial issues like the country's food security. The upcoming exposition aims to provide a platform for local farmers to showcase their products and connect with foreign buyers who are interested in purchasing them. This can lead to increased demand and better prices for their crops or products, which can improve their income.
From the 28th to 30th of April, 2023, the SMX Convention Center will be the site for the exhibition and competition that will include the following categories: Food Styling and Photography, Philippines
Regional Table Setting, Mother's Specialty Dish, Kitchen Masters, PINASarap Breakfast, Healthy Pasta, Modern Filipino Dessert and Mystery Ingredient. Registration and details for culinary challenges along with the screening of exhibitors can be found on the Philippine Food Expo's Facebook page.
The MOA signing was organized by Kromatiko Productions, a group of culinary students handled by Mr. Wyett White Lee, faculty, and led by Ms. Frances Dawn Sarmiento, Overall Chairperson. This gave UST and Cut Unlimited a chance to highlight their collaboration for future events.