The College of Tourism and Hospitality Management Student Council (CTHM SC), in collaboration with other young leaders from Taylor's University in Malaysia and People's Education Society (PES) University in India, recently created a virtual networking and fellowship experience for all hospitality student leaders of their institutions.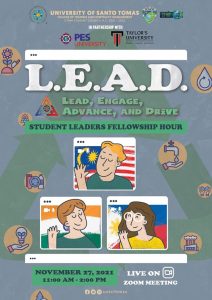 Through Zoom, the CTHM SC hosted the very first Student Leaders' Fellowship Hour that was joined by several student leaders of the three universities. The event is part of the Lead, Engage, Advance, and Drive (LEAD) Webinar Series project initiated by CTHM Assistant Dean Assoc. Prof. Evangeline E. Timbang, and Dr. Kandappan Balasubramanian of Taylor's University, Malaysia.
LEAD provides a platform for student leaders where they can create opportunities for themselves to lead by setting relevant goals and directions; engage to take ownership of responsibilities; advance to make a difference; and drive to enhance team spirit towards success.
Participants of the event included Dr. Kandappan Balasubramanian, Ayano Yatsuzuka, Rinne Matsushita, Yumi Uchida, and Kelly Christie from Taylor's University Malaysia; Dr. V Jaykumar, Prathika Suresh, Aaqib Mohiuddin, Krithika J, Gazal Chanda, Attur Vaishnavi, Hitha Rohith, Anirudh Chennampalli from PES University, India; Assoc. Prof Evangeline Timbang, Gershei Quirao, Mark Terence Cruz, CTHM SC officers, Students Tourism Society officers, and Hotel and Restaurant Management officers.
In the three-hour event, participating student leaders and advisers engaged in cultural exchange through country-specific cultural videos, university information sharing, and student organization presentations contributed by each participating university.
By the end of the event, the students had gained a better understanding of the value of international networking, building friendship, camaraderie, global leadership, collaboration, and cooperation with the other participants. The gathering concluded with plans to organize more leadership-inspired student programs and projects.