The Hospitality Department of the UST College of Tourism and Hospitality Management, celebrated the World Chefs Week with the theme "Growing a Healthy Future" from October 19 to 21, 2022, at the Albertus Magnus Building and via Zoom.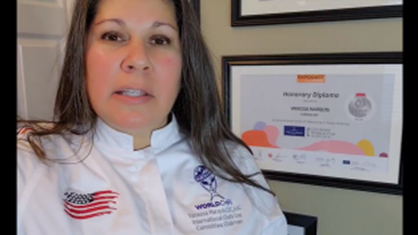 Chef Vanessa Marquis, the International World Chefs Day Committee Chairman, gave a short message to kickstart the anticipated celebration. As Chef Marquis mentioned, "Be kind with one another. Be kind with Mother Nature. And be sure to continue to share our noble profession with as many people as possible."
CTHM celebrated this year's chefs week by conducting various activities to showcase the culinary prowess of both second year and third year Hospitality Management students. Events for the celebration were not just exclusive to the CTHM community but were also extended to external participants.
Throughout the week, the Philippine Young Chefs Club (PYCC) made onsite promotions for building industry connections and introducing the world of culinary competitions to the students.
On the second day of Chefs Week, kids below 10 years old were invited to participate in "Feed the World: Growing a Healthy Future." In this event, the kids attended a healthy cooking workshop where they, together with their parents, followed along with a cooking demonstration provided by UST's very own award-winning chef instructor – Chef Kristian Roque.
Another activity during the week-long festivity was the FiliFusion Showdown where students from Specialty Cuisine and Philippine Regional Cuisine elective were tasked to come up with a contemporary spin on traditional Filipino dishes fused with foreign cuisines. Serving as the panel of judges were UST Chef Instructors Chef Fhamela Sarmiento and Chef Maria Labay, and the award-winning Chef Lawrenz Dela Cruz.
World Chefs Day is celebrated all over the world in the month of October. The celebration highlights the culinary profession with the goal of promoting a healthy future for everyone.