The College of Tourism and Hospitality Management (CTHM), together with the UST Graduate School – Center for Conservation of Cultural Property and Environment in the Tropics (GS-CCCPET) and the UST SIMBAHAYAN Community Development Office, conducted the Natural and Cultural Heritage Mapping Project and Preliminary Assessment of Tourist Sites and Attractions in the Municipality of Maragondon, Cavite.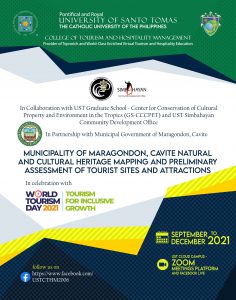 Covering 27 barangays, the project identified and documented the distinct natural, built, intangible, and tangible heritages of Maragondon, Cavite. The project targeted the creation of heritage awareness and appreciation among stakeholders and community around the town; provision for a comprehensive master development plan for the town and initiate local heritage ordinances through participatory approach and heritage utilization; and the development of an impetus for the promotion of cultural industries and develop tourism campaign or any heritage driven projects based on the heritage outputs of the town.
The project started with several virtual classes that commenced on September 16 and ended on October 05, 2021. These classes were facilitated by UST GS-CCCPET Director Eric B. Zerrudo, Ph.D., and Project Coordinator Beverly M. Bautista.
During the virtual classes, the facilitators discussed topics on how to document the natural, built, intangible, local history, and movable heritages of the community. The onsite seminar-workshop, focused on how to utilize the documented heritage resources through tourism and hospitality. It was implemented on October 18 and 19, 2021.
The preliminary assessments of different tourist sites and attractions were facilitated by #TeamMaragondon from UST CTHM, headed by Dean Gezzez Giezi G. Granado, DCL, together with Asst. Prof. Jane G. Devanadera (Project Co-Director), Asst. Prof. Fredeswindo R. Medina, (Team Representative), Asst. Prof. Maria Concepcion A. Ang (Budget Officer and Writer/Researcher), Mr. Jame Monren T. Mercado (Project Coordinator), and writer/researchers Ms. Karla Paricia G. Colmenar, Mr. Godofredo Cezar D. Vizconde, and Mr. Reinald A. Andaya.
The project is supported by the UST SIMBAHAYAN Community Development Office Director Asst. Prof. Froilan A. Alipao, and CTHM Unit Coordinator Asst. Prof. Joreen T. Rocamora, Ph.D.
Office for Alumni Relations Director Fredeswindo Medina, who hails from Maragondon, said that the project is vital for the "development of Maragondon Cultural Tourism program through improving their identified and documented cultural properties of the community."
The project is in partnership with the Municipal Government of Maragondon, Cavite, headed by Hon. Reynaldo A. Rillo. The implementation of the project is also in line with the celebration of the United Nations World Tourism Organization (UNWTO) World Tourism Day 2021, with the theme, "Tourism for Inclusive Growth."