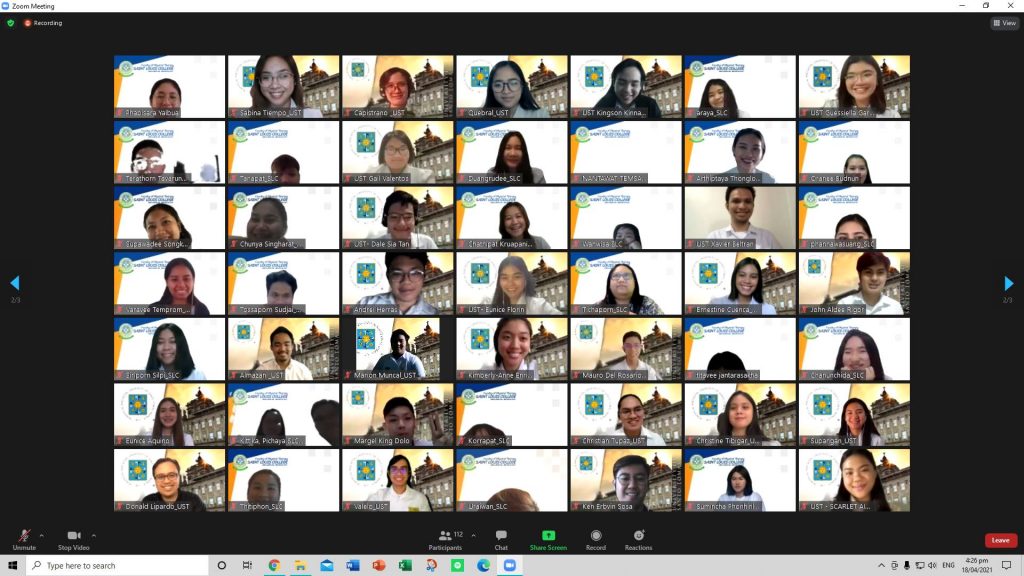 The University of Santo Tomas College of Rehabilitation Sciences and the Saint Louis College (SLC) Faculty of Physical Therapy (FPT) in Bangkok, Thailand initiated a two-part online collaboration on research presentations. UST hosted the first segment through Zoom held on March 27, 2021, while SLC hosted the second segment held on April 18, 2021.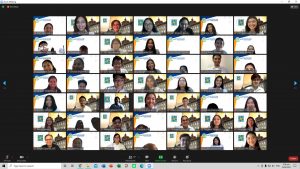 With the success of the first part of UST and SLC's "International Physical Therapy Research Presentation" comes its continuation with a new set of research works conducted by students of both schools. Featured studies focused on various methods and concepts in Physical Therapy applied to communities and various populations. With SLC hosting this segment, attendees from UST were also given a glimpse of the Physical Therapy practices in Thailand.
The following studies from SLC were presented: "Effect of Kinesio Tape on Vital Capacity and Chest Expansion in Individuals with Sedentary Behavior" by Pornnutcha Thangkum, Araya Panropru, Siriporn Silpi, as advised by Jitraporn Sriboonpeng; "Effects of Body Position on Vital capacity and Peak Expiratory Flow Rate in  Male and Female with Abdominal Obesity" by Phonphimon Prawanna, Pachara Phurahong, as advised by Dr. Rattanaporn Sonpeayung; "Balance and Gross Motor Function in Children with Cerebral Palsy: A Pilot Study," by Rattanaporn Unchuen, Wasachon Danwong, Supunnee Srijumpa advised by Khemmapak Charoensuksiri; and "Effects of Moderate Intensity Interval Training to Cardiorespiratory Endurance in Symptomatic HIV Patients: Case study" by Thanet Yimtragool, Phitchaya Utang, Satja Thongprasertchai, as advised by Sukanya Kreeinthong,  Chuenpak Saleesing, and Eittipad Jaiyen of the Bamrasnaradura Infectious Diseases Institute.
On the part of UST-CRS, the students presented research proposals that will be conducted within the year: "Mobile Applications for Self-Management of Hypertension: A Systematic Review " presented by Scarlet Chen, Eunice Florin, Guessiella Garcia, Kingson Li, Karen Robles, Dale Sia Tan, Gail Valentos, as advised by Dr. Donald G. Manlapaz,  Cristine Rose S. Versales, and Lyle Patrick D. Tangcuangco; "Short  Term  Effects  of  Biomechanical  Taping  on  Fascia  Slide  on  Extensor  Digitorum Communis, Electromyographic Activities of Upper Extremity Muscles,  Static  Maximum  Handgrip  Strength,  Lateral  Elbow  Pain,  and  Function  of  Participants with Unilateral Lateral Epicondylalgia" by Clarence Pryce Joshua Almazan's group, as advised by Dr. Valentin C. Dones III, and Asst. Prof. Christian Rey P. Rimando.
There were also other groups of UST-CRS students that presented: "Cross-Cultural Adaptation and Reliability of The Multidimensional Outcome Expectations for Exercise Scale (MOEES) in Filipino Older Adults " by Eunice Aquino, Fiona Cruz, Robert De Leon, Andrei Herras, Marrianne Llantino, Jalen Mijares, Christine Tibigar, and Christian Tupaz, advised by Dr. Donald S. Lipardo; and "Factors Affecting Post-injury Physical Therapy Compliance Among University of Santo Tomas Student-Athletes: A Cross-Sectional Correlational Study" by Shercel Aquino, Ernestine Cuenca, Mauro Del Rosario III, Margel Dolo, Shinmae Mainit, Marion Muncal, Sabina Tiempo, Brent Valelo, as advised by Ken Erbvin Sosa and Fe Therese M. Chavez.
At the end of each presentation, an Open Forum ensued. Student presenters addressed the inquiries and concerns regarding their respective papers, giving opportunities for interaction and dialogue between the institutions.
Before the event ended, the attendees were given a glimpse of how clinical practice was conducted by fourth year SLC students in a community at Suphan Buri. Presenters were then awarded certificates of appreciation and recognition for their papers by the SLC Internationalization Coordinator Asst. Prof. Sarayoot Mongkol.