Academic staff from the UST College of Rehabilitation Sciences – Department of Speech Language Pathology participated in the International Day hosted by the Thomas More University of Applied Sciences in Antwerp, Belgium on March 16, 2022. Together with UST and host institution Thomas More University, the Education University of Hong Kong and the University of Suriname were also present during the event.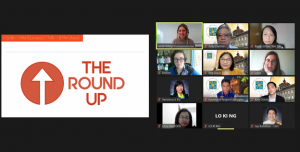 Ms. Judith Damian, Chair of the Department of Speech Language Pathology, represented UST during the plenary session where she discussed her study on the delivery of SLP services at the start of the COVID 19 pandemic in the Philippines.

Five faculty members of the UST Speech Pathology Department each presented a short lecture and facilitated a group discussion composed of international students during the parallel sessions in breakout rooms in two rounds for the main program of this event.

Academic staff Ms. Veronica Yu discussed "Empowering Clinicians and Parents in the Cleft Palate Speech Intervention." She highlighted the basic treatment strategies and error-specific techniques used for speech disorders related to cleft palate. A cleft palate speech camp was presented as a community-based program used to cater to the growing number of operated cleft palate patients who cannot afford to have speech intervention. This will stress the demand for speech pathologists in rural communities.

Moreover, the first Filipino mobile speech application was presented as an innovative tool used during the Covid-19 pandemic. Both the speech camp and speech mobile app underscores the importance of parental counselling and parental training in the speech progress of the patients.

Mr. Raymond Gonzales from UST, in collaboration with Dr. Carmen Ooi from The Education University of Hong Kong, discussed "Where do we stand? The speech-language pathologists' role in inclusive education." This presentation gave future SLPs a general overview of their possible roles in providing inclusive services within the school setting. Having a clear understanding of their duties and responsibilities within the context of inclusive education will be beneficial for our future colleagues, as it will enable them to become effective and competent SLPs who are ready for the modern demands of our discipline.

Mr. Kenneth R. Dizon tackled "The Barriers and Facilitators to the Accessibility of Rehabilitation Services in the Philippines." This interactive session provided the participants with a better understanding of the current state of persons with disabilities (PWDs) in the Philippines and the Asia-Pacific region. The session focused on the concept of accessibility, its barriers and facilitators, the impact of the COVID-19 pandemic, and potential prospects for community-based initiatives.

In addition, he discussed contextual components of the International Classification of Functioning, Disability, and Health (ICF) Framework and its implications for the accessibility of healthcare and rehabilitation services. All of these are centered on community-based rehabilitation and its intersections with inclusive development practice. Case studies and scenarios will also be given to better elucidate these topics. At the end of the lecture, the participants had a better understanding of concepts related to community-based rehabilitation, accessibility, disability, and apply these concepts towards the creation of projects and programs in their own communities, institutions, or organizations.

Mr. Jonah Jerome Katalbas participated in Ms. Esther Kwok's (The Education University of Hong Kong) discussion of "Impacts of Head Neck Cancer on patients and how medical SLP manage and care with heart." The joint discussion pointed out associations between speech-language pathology (SLP) care and pre-treatment variables, short-term and long-term swallowing and airway impairment, and survival in patients treated for oropharyngeal squamous cell cancer (SCCA).

Another lecture was on "How can we assess an adult with aphasia?" by Dr. Dorien Vandenborre (Thomas More, Belgium) and UST academic staff Ms. Bea Aque. It was a workshop that focused on a case study where a 48-year-old, right-handed, bilingual bank employee is involved in a chain collision accident. Workshop participants learned about different motor, cognitive, and psychosocial parameters that can influence an accurate assessment.

The event ended with a round up with participants sharing their experiences and learning insights from the plenary and parallel sessions.