The UST College of Architecture, in collaboration with conference
organizers the Guild of Liturgical Designers and the Committee on
Liturgical Architecture and Sacred Spaces of the United Architects of the
Philippines, conducted the first local conference on liturgical architecture held from June 22 to 24 at the Museum Main Hall of the University of Santo Tomas.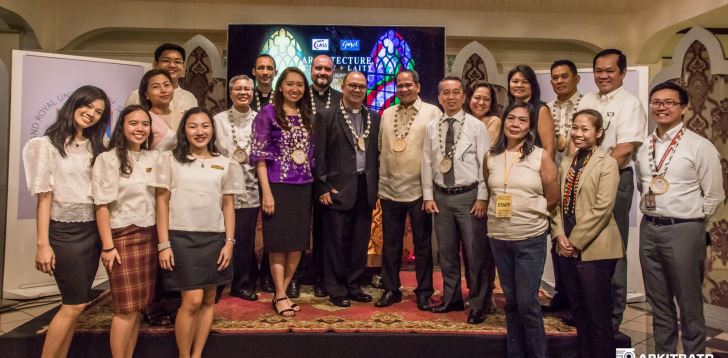 Hosted by the UST Museum, the event "Architecture, Clergy + Laity: At the
Service of Liturgy" centered on expressing and articulating sacred spaces in the physical form. It provided network and collaboration opportunities for architects, designers, liturgists and practitioners.

The morning conference sessions underscored the impact of a physically
beautiful church with the way Catholics relate to God. Rev. Fr. Javier Aizpun of Centro Superior de Estudios Teológicos de Pamplona in his presentation titled "Liturgical architecture and history," provided the participants with a rich architectural history of liturgical spaces from the time of Jerusalem's
Cenacle to the present. Meanwhile, Rev. Prof. Juan Rego of the Pontificia
Universita dela Santa Croce spoke about liturgical architecture and
inculturation in "Incarnated beauty: Theological foundations".

Presentations that took place in the three afternoon sessions were
multi-disciplinary and mostly set in Philippine context. Rev. Fr. Antonio
Bermejo of University of Asia and the Pacific presented "House of God,
body of Christ, temple of the Holy Spirit". Ar. Jae Narciso of Asian
Architects discussed highlights in liturgical space designs in "Renaissance, Baroque, Gothic & Art Deco styles in liturgical architecture church design," while Ar. Dominic Galicia of Dominic Galicia Architects presented liturgical architecture design process in "Church design: From concept to design development."
Assistant Professor Manuel Noche of the UST College of Architecture discussed "Retablos" as he presented how the design of altar backdrops evolved over time. Ar. Stephanie Gilles of SNG Design Enterprisepresented examples of liturgical spaces in the modern setting in "Contemporary trends in liturgical architecture."
The local rehabilitation and restoration efforts on liturgical edifices were the main topics of the last afternoon session. Ar. Benjamin Esquires Empleo and Engr. Jim Franklin O. Kalaw of the National Historical Commission of
the Philippines presented "Restoration of Cebu and Bohol churches and their liturgical artifacts after the earthquake."
Ar. Noel Gatus discussed the ongoing renovation work on Naic Church in the presentation titled "Church as nexus of community: Renovation of Naic Church, Cavite."
As early as now, the organizers are already developing conference topics that go beyond aesthetics, sciences and theory of liturgical architecture for the next staging of the conference. Ar. Mary Rajelyn Javier Busmente and Ar. Aurora Berba Panopio of Architecture are two of the founding members of the Guild of Liturgical Designers