The University of Santo Tomas and the Focolare Movement will commemorate the 25th year of the conferment of Honorary Doctorate in Sacred Theology to Chiara Lubich on March 12, 2023.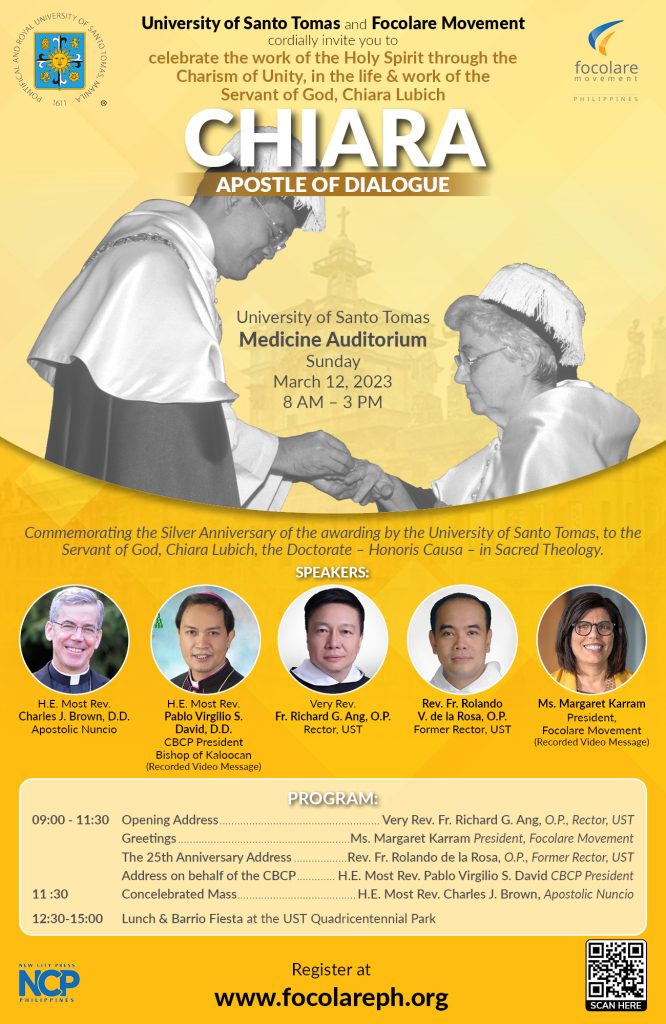 His Excellency, Most Rev. Charles J. Brown, D.D., Apostolic Nuncio to the Philippines, will lead the Holy Mass at 9 a.m. at the Medicine Auditorium. The Eucharistic Celebration will be followed by a barrio fiesta program, from 12 noon to 3 p.m., at the Quadricentennial Park.
You may register at www.focolareph.org until February 24, 2023.
The Founder
Lubich, an Italian educator and author, founded the Focolare Movement, which aims to bring unity among people and promote universal family.
In her early days, in 1943, the laywoman had proposed themes and openings, which was acknowledged by the Second Vatican Council. Valuing life and seeking the meaning of suffering were the driving force to Lubich's spiritual movement, thus carving a path of religious and civil holiness that is accessible to anyone.
The luminary joined our Creator on March 14, 2008 in Italy.
At present, Focolare Movement has reached 182 countries with around 2 million followers strong from different walks of life and from various religions that share the same cause.