The Department of Biological Sciences of the UST College of Science hosted and co-organized the 2nd International and 9th Annual Convention of the
Philippine Society for Cell Biology held from October 22 to 23, 2018 at the auditorium of the Central Laboratory Building. UST co-organized the event with the Philippine Society for Cell Biology.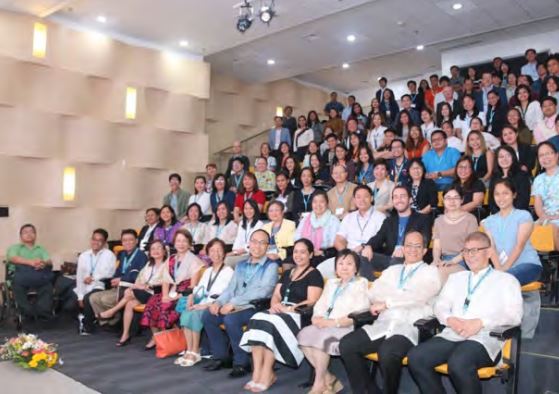 With the theme "PSCB: A decade of commitment to education, research and innovation in Cell Biology," the two-day event gathered 158 local and
international participants who actively participated in the various lectures and poster sessions with topics ranging from industrial, health, education, ethics and innovation aspects of cell biology.

The keynote lecture was delivered by Prof. Esperanza C. Cabrera, Ph.D., University Fellow of De La Salle University Manila. Cabrera lectured on "Adding Life to the Teaching and Learning of Cell and Molecular Biology". An accomplished Thomasian alumna in the field of medical microbiology, Cabrera obtained her B.Sc. Medical Technology and Ph.D. Biological Sciences degrees from UST.
Other plenary lectures were delivered by professors and scientists from Taiwan, the People's Republic of China, Japan, Singapore, Australia, South Korea, and the Philippines.

Cabrera was not the only Thomasian who was involved in this year's PSCB convention. Others include the PSCB president for 2016-2018 Prof. Mary Beth B. Maningas, Ph.D., of the Department of Biological Sciences; Science faculty member and PSCB auditor Asst. Prof. Josefino R. Castillo, BS Biology alumna and PSCB treasurer Lorraine Kay Cabral of St. Luke's Medical
Center; and Ph.D. Biology student and PSCB PRO Mr.