CCWLS Director Professor Emeritus Cristina Pantoja Hidalgo, Ph.D., delivered the keynote address titled "Reading, Teaching, and Writing the Memoir" at the Memoir: The Courage to Begin With, an all-day writing event for women held on February 4, 2023, at the Sunshine Place Senior Recreation Center. The event was for young professionals and older and was open to all levels of writing proficiency. The participants ranged in age from 50s to mid-20s. They were a combination of published and would-be literary writers, journalists, teachers, psychologists, housewives, and graduate students.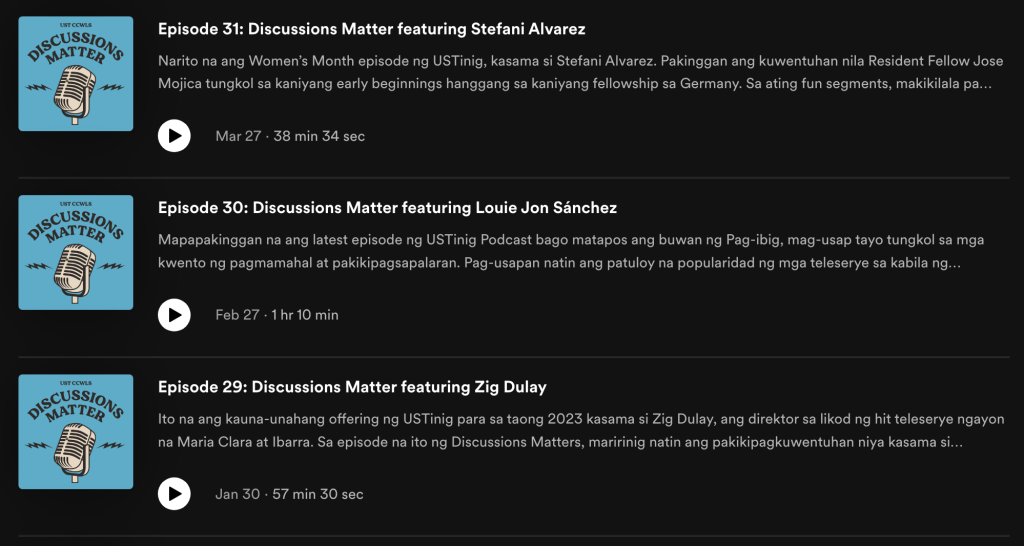 Hidalgo also delivered a lecture on "My Writing Life" recently at the Philippine Book Fair in Baguio City. This is the second PBF to be held this year by the Book Development Association of the Philippines (BDAP). It was held in collaboration with the University of Baguio.

In November 2022, CCWLS Co-Director Prof. Augusto Antonio Aguila, Ph.D., UST Publishing House Director Asst. Prof. Ailil Alvarez, Asst. Prof. Paul Castillo, and Asst. Prof. Joselito Zulueta were members of the Literature/Creative Writing Panel on "Criss-crossings of Catholic Thought and Contemporary Literature" in the recently held COMIUCAP World Congress organized by the UST Ecclesiastical Faculties.

Aguila read a paper titled "Carnival of Hate: Dante's Inferno and the Contemporary Fictional Rendering of the Seven Deadly Sins" and Alvarez' paper was on "The Sanctity of Silence; The Lyrical Articulation of Spirituality in Dinah Roma's Naming the Ruins.

Castillo's paper was titled "Crucified Convictions: Deviation, Deception, and Darkness in Writing Poetry", and Zulueta read a paper titled "Mudswamp of the Faith and the Hiddenness of God in Shusako Endo's novel Silence."
Aguila also delivered a lecture on "Real World Writing in the 21st Century" at UST Angelicum College during Book Month.
USTinig's Discussion's Matters is a regular podcast that features interviews and conversations with writers and scholars who talk about a wide range of topics. It is hosted by CCWLS Resident Fellows Mr. Jose Mojica and Asst. Prof. Dawn Marfil-Burris.
You may listen to the USTinig podcast via Spotify, Anchor, Google, and Apple podcasts:
4. https://anchor.fm/ust-ccwls
The latest episode for April 2023: