The University of Santo Tomas (UST) Center for Continuing Professional Education and Development (CCPED) virtually launched two books on June 16, 2021, via Facebook Live. Produced under the Commission on Higher Education (CHED) Revised and Expanded Guidelines for Continuing Professional Education (RECPE) Grants, one is a handbook on community engagement and the other one is a training manual for student affairs and services practitioners.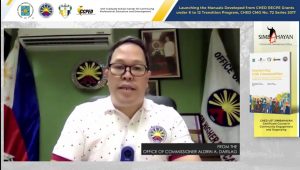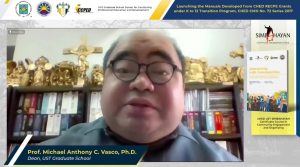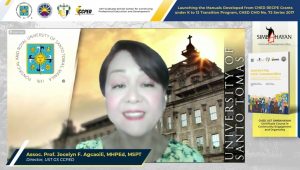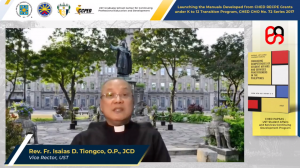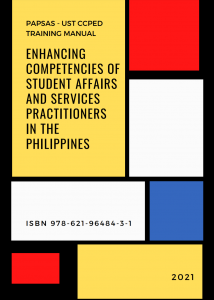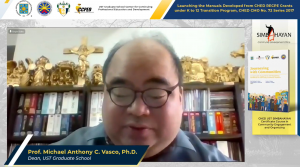 UST Vice-Rector Rev. Fr. Isaias D. Tiongco, O.P., commended the Center in his opening remarks, for finishing such significant projects in these challenging times. Particularly, he noted the books' "noble purpose of advancing and improving the condition and situation of the human person and communities, [which is] the mission that every Catholic university strives to attain."
"Journeying with Communities: A Community Engagement and Organizing Handbook for University Extension Workers" highlights the public and social mission of higher education through Community Engagement, emphasizing the importance of Participatory Action Research (PAR) and Community Organizing for Community Development (COCD). 
Its unique contribution lies in specifically situating HEI Community Engagement within the unique historical context of the Philippines, which adds a Philippine voice in the literature of Community-Engaged Scholarship (CEnS). It also provides exercises and case studies where readers can situate themselves and apply the theories, concepts, and tools they have learned so they can enhance the Community Engagement programs and projects of their respective colleges and universities. 
The Handbook, a project that was started in 2020 and completed in 2021, was co-authored by UST SIMBAHAYAN Director Asst. Prof. Froilan A. Alipao, UST SIMBAHAYAN Office Assistant for Community Development and Program Development officer Ms. Abegail Martha S. Abelardo, and University-wide Student Organizations Coordinator Dr. Melanie D. Turingan. Another co-author is the former UST SIMBAHAYAN Community Development Office Director Dr. Mark Anthony D. Abenir.
The President of the Philippine Association of Social Workers, Inc., Negros Oriental-Siquijor Chapter Dr. Emervencia Legaspi-Ligutom served as a consultant. The Handbook is available in physical and virtual copies. 
"PAPSAS-UST CCPED Training Manual: Enhancing Competencies of Student Affairs and Services (SAS) Practitioners in the Philippines" helps the SAS practitioners reflect on the theoretical foundation of SAS practice in their institution, on their personal competencies as leaders and managers in handling changes, on the need of research in SAS, and on the need for collaboration and partnership. The Manual also aids practitioners in viewing student discipline from the lens of restorative justice and student formation.
The SAS Training Manual was written by a team of educators composed of Philippine Association of Practitioners of Student Affairs and Services (PAPSAS) Adviser and former UST Assistant to the Rector for Student Affairs Prof. Evelyn A. Songco, Ph.D., Asia–Pacific Student Services Association (APSSA) Institute of Student Affairs Director Dr. Maria Paquita D. Bonnet, De La Salle University (DLSU) – Manila Associate Professor Dr. Hilario S. Caraan, UST Student Welfare and Development Board (SWDB) Director Atty. Antonio M. Chua, National President of PAPSAS Dr. Leandro A. Loyola, Ateneo de Manila University Student Affairs Administrator Rene Salvador R. San Andres, and DLSU Business for Human Development Network Head Dr. Benito L. Teehankee.
                Recalling the long journey of CCPED with CHED-RECPE, which began in 2017 under the K-12 transition program and resulted in the development and publication of the two training modules, UST CCPED Director Assoc. Prof. Jocelyn F. Agcaoili thanked the people who were involved in this project, particularly, the CHED for its support, the SIMBAHAYAN and PAPSAS for their partnership, and the authors.  
CHED Commissioner Dr. Aldrin A. Darilag, emphasized in his Message, that the two books are "a great addition to the continuous development of quality, accessible, and resilient Philippine higher education, especially in the new normal."
                UST Graduate School Dean Prof. Michael Anthony C. Vasco, Ph.D., highlighted the wealth of lived experiences gathered in the training and actual practices that informed the development of the two books. He said, "The values and lessons learned from such activities can serve as a moral compass of students in their real world and work engagements in the future. What best way to preserve [these] if not through publications that we can disseminate to the wider public? These best practices will further bring the leadership and community engagement of both of our students and our student affairs practitioners to greater heights."
                Online copies of the two books may be accessed through the UST CCPED page on the official UST website or through this link: https://bit.ly/USTCCPED