The UST Graduate School Center for Continuing Professional Education and Development (GS CCPED) and the Office for Graduate Research (OGR) conducted a Webinar on Responsible Conduct of Research.
The main goal of the webinar was to ensure that graduate students will be able to conduct quality research that are not only technically correct and scientifically rigorous, but also ethically sound, particularly for research that involve human participants.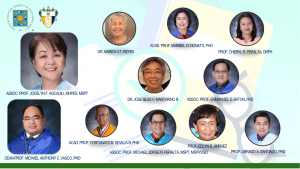 The webinar focused on the analysis of ethical issues that were raised when people were involved as participants in research. It is imperative that the interests of individuals, groups, and society as a whole will be considered.

The panel of speakers from the University, was composed of men and women who were not only well published researchers, but also acknowledged experts and multi-awarded professionals in their own fields that included: Vice-Rector for Academic Affairs Prof. Cheryl R. Peralta, DrPH; Vice-Rector for Research and Innovation Prof. Maribel G. Nonato, Ph.D.; Academician Prof. Emeritus Fortunato B. Sevilla III, Ph.D.; OVRRI Executive Assistant Assoc. Prof. Michael Jorge N. Peralta; Prof. Librado A. Santiago, Ph.D., and Assoc. Prof. Emmanuel D. Batoon, Ph.D.

Speakers from the University of the Philippines and the Philippine Health Research Ethics Board were: Dr. Marita V.T.Reyes, Dr. Jacinto Blas V. Mantaring III, and Prof. Edlyn B. Jimenez.

In the webinar, the speakers discussed National and International Ethical Guidelines, responsibilities of researchers, management of risk, vulnerability of research participants, protection of privacy & confidentiality, the process of informed consent, and ethical issues of publication of research. The webinar was held in collaboration with the Office of the Vice Rector for Research and Innovation (OVRRI).