The UST Graduate School (GS) Center for Continuing Professional Education and Development (CCPED) offered the Certificate Course in Strategic Human Resource Business Partnership. The program was offered in synchronous mode through the UST Cloud Campus every Saturday from June 19 to July 17, 2021.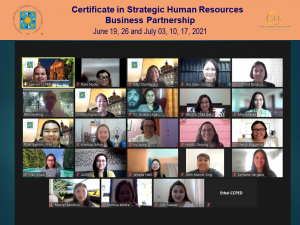 This 40-hour program enabled Human Resource (HR) practitioners to develop a strategic 'internal business partner' mindset. This engages them to develop their internal consulting skills and business adeptness in order to turn business goals into relevant HR strategies.

The program was borne out CCPED's partnership with Great Learnings & Beyond Management Consultancy, which started in 2018.

The company is headed by Dr. Giselle Legaspi-Barrion, Ph.D., the Managing Director and Chief Management & Organizational Development Consultant, and Reynald Ryan D. Barrion, the Vice President for Human Resources.
A team of HR experts served as resource speakers and facilitators, namely, CaPEx Freight Forwarding Corp. HR Head Mr. Raymond Luclucan; Demo Power Philippines Associate Director for HR Ms. Kathleen Sta. Maria, and Management Studies of European International University (Paris) Dean Mr. Joel Farnworth.