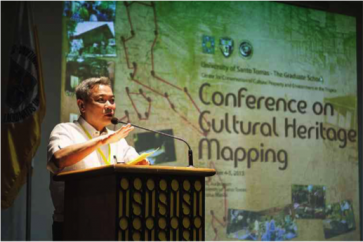 In celebration of its 10th  anniversary, the Center for Conservation of Cultural Property and Environment in the Tropics (CCCPET) of the University of Santo Tomas Graduate School (USTGS) held the first ever Conference on Cultural Heritage Mapping on November 4-5, 2013, at the Thomas Aquinas Research Complex  Auditorium, España, Manila.
This gathering of cultural-heritage mappers, cultural workers, students and people from the academe reviewed mapping practices and how this technique substantially contributed to community development, especially when that there is a growing interest among local government units to fuse heritage with development.
Eric B. Zerrudo, MCH, CCCPET director, said the conference sought to share cultural-mapping experiences of local governments and created a network of cultural mappers among the academe, cultural organizations, and government offices.