The Local Government of Guiuan in collaboration with University of Santo Tomas Graduate School Center for Conservation of Cultural Property and Environment in the Tropics (USTGS-CCCPET) and Department of Environment and Natural Resources (DENR) Guiuan Marine Resource Protected Landscape and Seascape (GMRPLS) initiated the GUIUAN SEASTAINABILITY PROGRAM (GSP) on November 6, 2021.
The seminal project under the GSP is the Dumyang: A Community-based Mapping Project for the Sustainable Development of Fisheries and Coastal Tourism of the 45 coastal barangays of Guiuan, Eastern Samar. Dumyang is a Waray-waray word for bountiful fish harvest. The 75 mappers are composed of fish catch enumerators, teachers, youth, and non-government organizations workers. During the event, CCCPET Director Eric Zerrudo, PhD gave an overview and initial presentation of the project.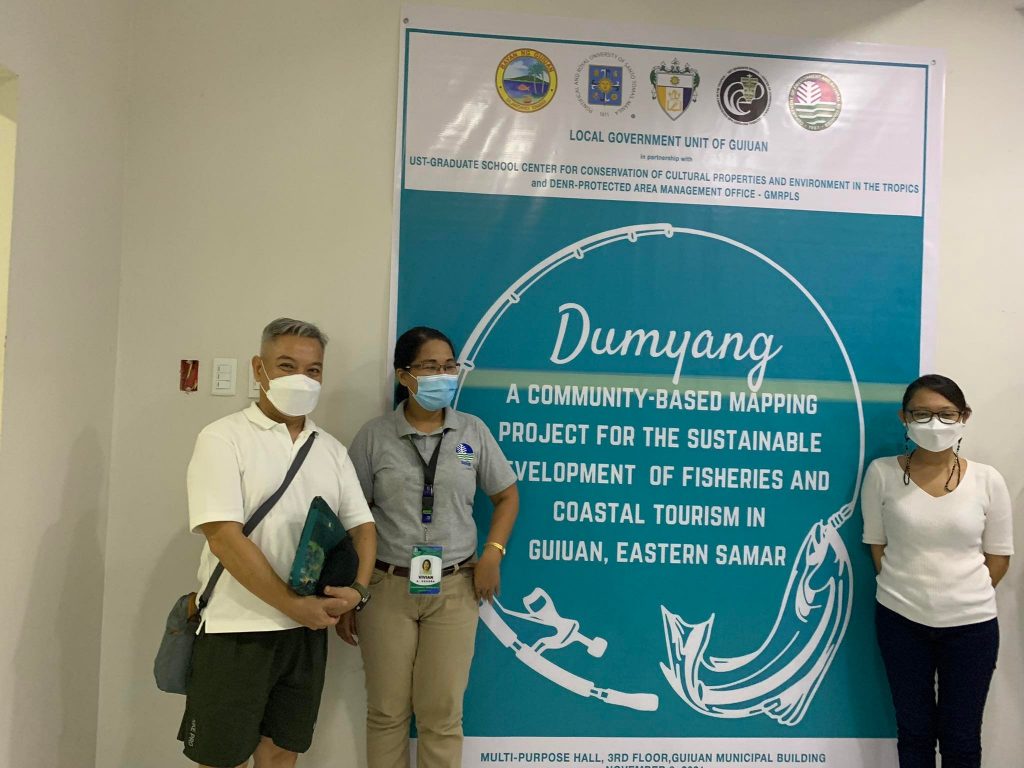 Under the leadership of Hon. Annaliza Kwan, Mayor of Guiuan Municipality, Eastern Samar, the program is a multi-sectoral, multi-disciplinary initiative toward marine heritage conservation and sustainable development. It aims to train and educate the stakeholders of coastal communities on the conservation and sustainable utilization of coastal resources; document and build community-based inventory of coastal resources, traditions, and technologies for sustainable utilization and development programs on fisheries and tourism; obtain a more accurate and understanding of the needs of the community in using and development and conserving coastal resources and develop coastal development programs based on the inventory to diversify the income of fishing communities and conserve the coastal resources and appreciate the coast and the sea as Heritage.
The coastal mapping activity will start in January 2022 and continue for 5 months. The USTGS-CCCPET will conduct the activity flexibly hybridizing two formats – face-to-face and the HOME program. Due to the uncertainty of internet signal in Samar, all lectures and activities will be through face-to face interaction, closely implemented in accordance with prevailing health protocols, to warrant the enumerators' active involvement and commitment. The documentary submissions will be through HOME (Heritage Online Mapping Experience). The USTGS-CCCPET developed the newly customized virtual platform for Coastal Heritage Mapping where mappers will be guided to navigate to create the database. The Local Government of Guiuan is the very first LGU to conduct a comprehensive coastal heritage mapping documentation.