Eastern Visayas appears to be more conscious of its built heritage post Typhoon Yolanda. The hardest hit city in the region, Tacloban City, has seen some of its old houses transformed into cafés and hotels, while many historic towns in the region have been making efforts to restore their damaged heritage structures.
Following this trend, the provincial government of Samar, in partnership with the Department of Tourism Region 8, plans to develop a 19th century mortuary chapel known as the Buscada or Sto. Nino Chapel.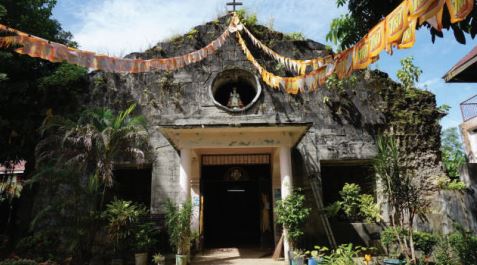 The UST-CCCPET was commissioned to develop the Conservation Management Plan (CMP) for the restoration and development of the Buscada Mortuary Chapel, which would be the foundation of
the site's future development plans. A team of specialists was organized
and led by CCCPET Director Assoc. Prof. Eric B. Zerrudo. The team was composed of conservation architects, wood conservation specialist, interior designer, and researchers who visited the site from November 9 to 12, 2017 to conduct tests, Assoc. Prof. Zerrudo (in grey shirt) and his team of conservation specialists conduct an ocular inspection and physical documentation of the structure.

The study concluded that the Buscada Mortuary Chapel — one of the enduring Spanish colonial structures in the Province of Samar — has retained its cultural significance in its use and architecture and must then be preserved and enhanced.

Architecturally, the Buscada Mortuary Chapel is representative of a 19th century Spanish-period mortuary. Built by the Franciscans to be the central capilla of the town cemetery, the chapel interior features 56 niches (28 on each side) where the dead of the prominent families of Basey are buried. One of them is Rufino Marabut, the father of Congressman Serafin Marabut
who inspired the name of Marabut town, which was carved out from Basey, Samar. Although the cemetery grounds have been neglected over time, the chapel continues to welcome family members lighting candles for their dead. Furthermore, the chapel remains a significant focal point for
the devotion to the Santo Niňo de Jesus, whose religious rites are defined in the Balyuan Fiesta in Basey and the Sangyaw Festival in Tacloban.
Using a values-based approach, the cultural significance of the site specified
in the CMP guides future conservation and development efforts of the Buscada Mortuary Chapel.