The Municipal Government of San Nicolas, Ilocos Norte is working toward a multi-purpose heritage and tourism project through the collaborative efforts of the University of Santo Tomas Graduate School Center for Conservation of Cultural Property and Environment in the Tropics (UST GS CCPET) and the UST College of Tourism and Hospitality Management (CTHM).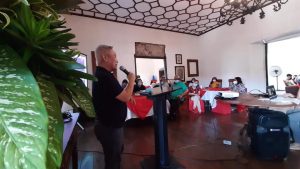 The joint project targets an over-all heritage-based framework contextualized for San Nicolas, Ilocos Norte titled "Kinadur-as: Evolving the Heritage Conservation, Utilization and Development Framework for San Nicolas Municipality, Ilocos Norte."

Kinadur-as is the Ilocano term for progress, both material and non-material. It captures the person's sense of enrichment and capabilities to achieve human development.

Included in the project is the development of the municipality's Sustainable Tourism and Strategic Development Plan (2021-2025) in partnership with the UST College of Tourism and Hospitality Management. Mr. Jame Monren Mercado, a CTHM faculty member and researcher, assists in this project.

The presentation and turn-over ceremony took place in San Nicolas on June 10, 2021, with UST CCCPET represented by its Director Assoc. Prof. Eric B. Zerrudo, Ph.D. together with thee CTHM and CCCPET staff.

The objectives of the study include determining the current situation of the municipality, specifically on its tourism industry development; analyzing different related issues, constraints, and opportunities of the municipality on tourism industry development; assessing the perspectives and views of different stakeholders on the sustainability and development of the municipality's tourism resources; and justifying tourism development impacts, specifically on the municipality's economic, socio-cultural, and environmental aspects.