The University of Santo Tomas Graduate School Center for Conservation of Cultural Property and Environment in the Tropics (USTGS-CCCPET) and the UST College of Fine Arts and Design (UST-CFAD) closely collaborated with the Design Center of the Philippines (DCP) to advance the Third District of Leyte's USWAG Design and Development Project. The culminating activity was an exhibition in Robinsons Marasbaras (Tacloban, Leyte) from Nov 25-29, 2021 and in Lolo Intings Heritage House (Villaba, Leyte) from December 1-14, 2021.
Under the vision of Congressman Vicente "Ching" Veloso, Third District of Leyte, and the indefatigable work of Leyte Provincial Board Member Ana Veloso-Tuason, the project envisions to harness the creativity of local artisans toward global designs that will generate revenues and livelihood for the community. The DCP, through the leadership of Executive Director Rhea Matute and Consultant Milo Raval, mobilized design experts who engaged the community in capacity-building, hand-holding and exhibition display of the products. The documentation synergy was a critical mass of knowledge and skills from the USTGS-CCCPET, CFAD, DCP, DTI-Leyte. The institutional buyers exhibition will be in Guinciaman, San Miguel, Leyte on December 15-25, 2021.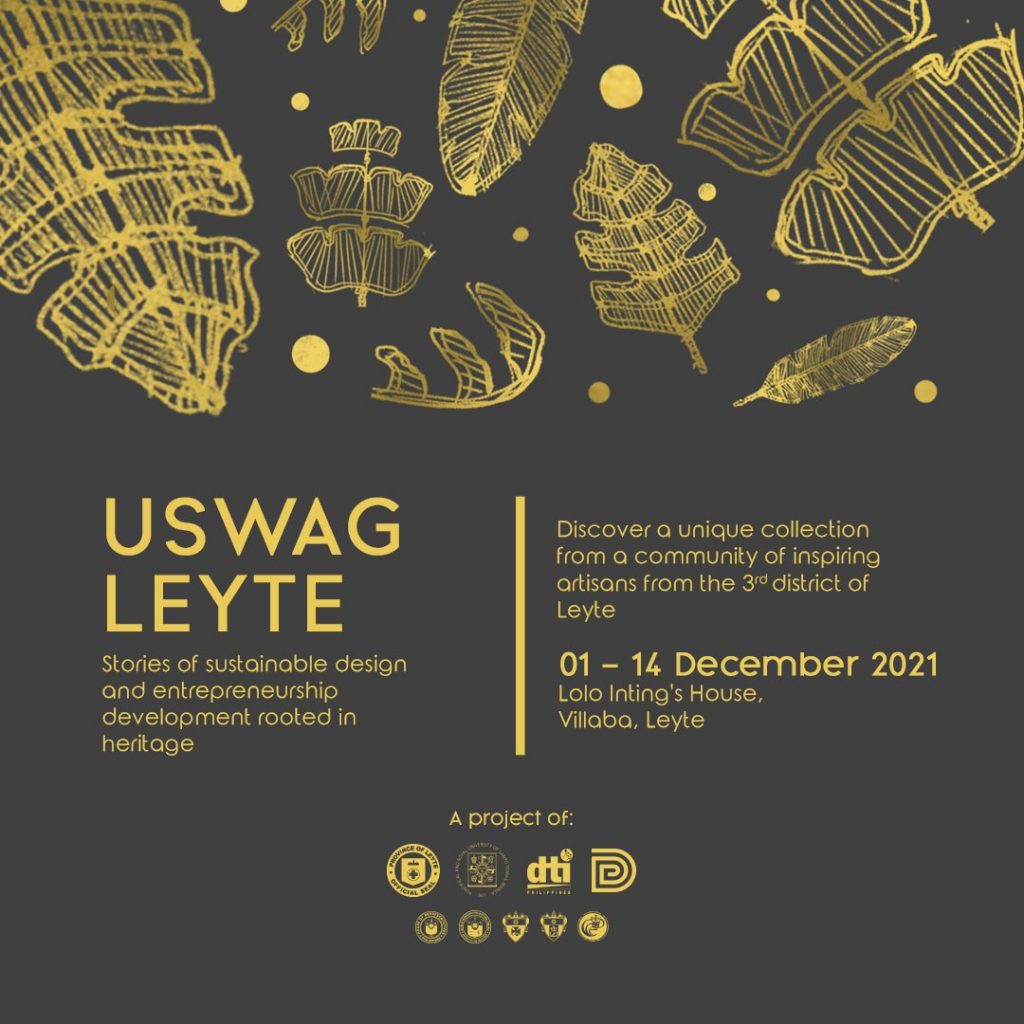 UST GS CCCPET's Cultural Mapping Project in 2018 spawned the USWAG Project as a Continuing Cultural Mapping Activity. With documented natural resources, local skills inventory, manpower profiling, and community organizing, the stakeholders decided to advance towards skills upgrade and product upscale. The project produced heritage-inspired designs of housewares and lighting accessories made out of local indigenous materials. This heritage utilization model is integral to CCCPET's heritage conservation and sustainable development framework.
The USTGS-CCCPET team was composed Assoc. Prof. Eric Babar Zerrudo, PhD and Ms. Beverly Bautista, while the UST-CFAD was led by Dean Asst. Prof. Christie Que and Mr. Romano Macaisa, Chair of Department of Industrial Design. One of the DCP's lead designers Mr. Charles Boris Mañez is a graduate student of UST Graduate School's Master's degree in Cultural Heritage Studies.