Professor Clarita D.L. Carillo, PhD, the University's Assistant to the Rector for Planning and Quality Management, present three Cs of quality assurance for universities during the 2022 Discurso de Apertura (Inaugural Lecture), held to open Academic Year 2022-2023 on August 4, 2022 (Thursday), at the Santísimo Rosario Parish Church. Using the disruptive COVID-19 pandemic as the backdrop of her presentation, UST's chief for planning and quality assurance acknowledged how "in the last 29 months, academic institutions…faced the formidable challenge to persist despite the uncertainty of existing conditions." This challenge underscored the responsibility of schools to not just manage to deliver, but to do so with quality.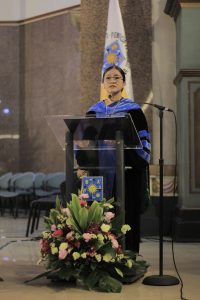 To this end, she recalled the University's own experience of adjusting to the pandemic (as Chair of the Task Force Veritas that assessed in 2020 the readiness of the university to shift to remote operations) and presented the three C's of resiliency in quality assurance: Cope, Control, and Construct.
The 3 C's, according to Carillo, "are not to be viewed as a prescriptive formula but as a descriptive continuum of the category of responses made in view of challenges, changes, and chances." The OPQM head further elaborated by enumerating five considerations that institutions can make in relation to acting on the 3 C's: goal, competencies, resources, approach, and attitude towards change.
Quality assurance for learners Contrasting the usual notions of quality assurance as applied to products and services (which aim for zero defect, according to Philip Crosby), Carillo highlighted the "duality of coverage" that schools have to attend to. Instead of zero defect, Carillo stated that QA "is instead viewed based on the achievement of the total formation of learners, further delineated by expected learning outcomes and desired graduate attributes." Carillo likewise highlighted the importance of administrative support services that should all contribute to the total formation of learners.
To achieve the goals of quality assurance, Carillo offered the Plan-Do-Check-Act framework used by the University for its own quality management system.
The Discurso de Apertura is a decades-long tradition of opening the new academic year with a lecture delivered by an appointed faculty member or administrator. Carillo is a seasoned University administrator who is UST's longest-serving Vice-Rector for Academic Affairs (2006-2017). She is a Lead Assessor for the ASEAN University Network Quality Assurance and is a member of the Institutional Sustainability Assessment team of the Commission on Higher Education. She handles professional education courses at the Graduate School and the College of Education.