The Prefect of the Congregation for the Evangelization of the Peoples and our former Archbishop His Eminence Luis Antonio Cardinal Tagle, D.D. led the Institutional Easter Recollection on April 23, 2021 via livestream.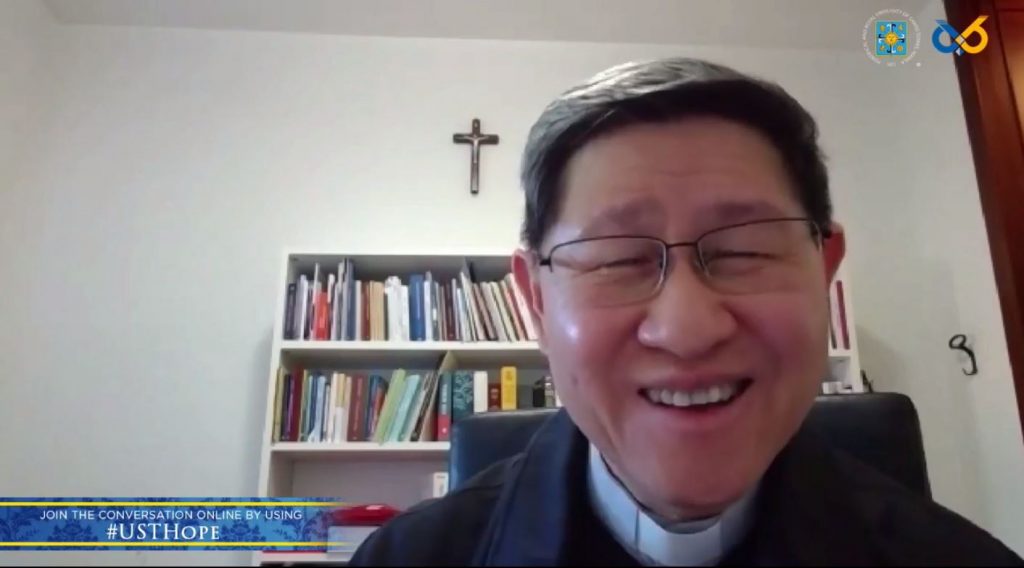 Hope as God's plan for us in the future
Cardinal Tagle reflected on the Lenten message recently delivered by Pope Francis, who emphasized the three theological virtues of "Faith, Hope, and Love" that serve as a guide in the coming of our Lord Savior, Jesus Christ. "We believe that Hope is God's gift. It is a grace. Hindi po tayo ang gumagawa ng pag-asa. Ang pag-asa ay regalo ng Diyos. Tayo ay taga-tanggap. Tayo po ay taga-hingi ng biyaya ng pag-asa," Cardinal Tagle said. "If we try to produce hope by ourselves, chances are it will just disappear after a few moments. Lasting Hope comes from God," he added.
Echoing Pope Francis' ideation of hope as a daily experience, Cardinal Tagle said hope is focused on the future that is opened up by God through His Son. "Hope is being able to see a future. At kung pupuntahan natin ang kabaliktaran, sino ang desperado? Sino ang mga walang pag-asa? Yung mga tao na wala nang naikitang kinabukasan. There is no more future in their eyes," Cardinal Tagle said.
According to Pope Francis, Hope is about being able to see a future that is not fabricated by human beings. Hope is a future that God Himself offers to us. "It is a future God the father opens up to us, for us to enter and that future world have been made possible through Jesus' death, and especially his resurrection," Cardinal Tagle said.
Moreover, Cardinal Tagle added that Hope means that we must believe that history does not end in mistakes, violence, injustices, and as well as the sins that crucify love. "Hope means receiving from his open heart, the father's forgiveness. Ang pag-asa ay ang paniniwala na ang kasysayan ay hindi nagwawakas sa ating mga pagkakamali," he said. "Mercy is stronger than our sins that the Love of God can conquer the ultimate enemy, which is death. But this we seek in faith if we believe in the power of the passion and the resurrection of Jesus," Cardinal Tagle said.
Cardinal Tagle underscored that we must not be short-sighted, meaning that we only see our own faults and others' too. Likewise, Cardinal Tagle said that the Covid-19 pandemic brought people together to help others in need. However, individualism returns every now and then, aiming to push the people to their breaking point, resulting to despair and nihilism.
"If we pray and we allow God to encounter us through the risen Lord. Let his light inspire our weary hearts. Let Jesus, who was raised by the Father from the dead, open for us a future, which may be our efforts will not be able to produce," Cardinal Tagle said. "Kaya tayo nagkaka-despair kasi tayo lang ang bumubuo ng sinasabi nating better future. But hope is focused on what God will do and what God has already done through the resurrection of Jesus Christ," he said.
Experiencing hope daily
According to Cardinal Tagle, the true essence of Easter is to give us a refreshed vision through the virtue of Hope, which we must experience daily and regardless of season. "It is in the simple, ordinary day-to-day existence that the risen Lord shows His triumph. And so, we can experience Easter joy if we are attentive to Jesus' presence in the ordinary events of life," Cardinal Tagle said.
The Institutional Easter Recollection was organized by the Office of the Vice-Rector for Religious Affairs, Center for Campus Ministry, and the Graduate School of Law. Following Cardinal Tagle's sharing, Vice-Rector for Religious fr. Pablo T. Tiong, O.P. celebrated the Holy Eucharist.
Watch the Easter Institutional Recollection here: https://www.facebook.com/UST1611official/videos/473577717318898