His Holiness Pope Francis appointed Most Rev. Jose F. Cardinal Advincula, Jr., D.D., the new Archbishop of Manila on March 25, 2021. Cardinal Advincula succeeds His Eminence Most Rev. Luis Antonio Cardinal Tagle, D.D., who now serves as the Prefect of the Congregation for the Evangelization of Peoples. He has been in the Vatican since 2019.
With 3 million Catholics in more than 80 parishes, the 442-year-old Archdiocese of Manila is the largest in the Philippines. During its vacancy, the seat was held by its Apostolic Administrator, the Auxiliary Bishop Most. Rev. Broderick Pabillo, D.D.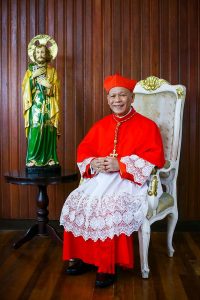 Prior to being named Cardinal by Pope Francis in November 2020, Most Rev. Advincula was the Archbishop of his hometown Capiz from 2011 to 2021, and the Bishop of San Carlos, Negros Occidental from 2001 to 2011.
Ordained priest on April 14, 1976, the Cardinal obtained his Bachelor in Sacred Theology degree from the University of Santo Tomas on March 3, 1975, and his Licentiate in Canon Law from the Pontifical University of St. Tomas-Angelicum in Rome. He also holds a degree in Psychology from the De La Salle University.
Cardinal Advincula, the 9th Filipino Cardinal, will have to be formally installed as the 33rd Archbishop of Manila, at a date that is yet to be announced, as of this publication.