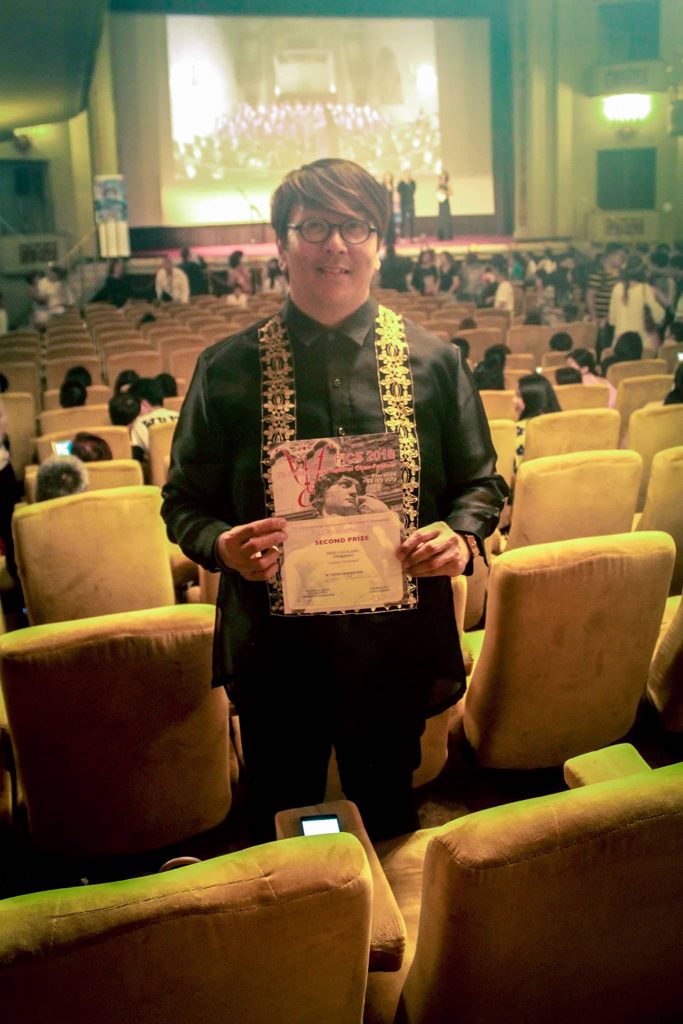 UST Singers founder and conductor Asst. Prof. Fidel G. Calalang Jr., was recently awarded 2nd Prize at the 5th Ennio Morricone International Competition of Choral Composition in Florence, Italy. His composition for eight voices titled "Laudate Dominum," was personally chosen as winner by Ennio Morricone, lone jury of the competition. Participants were from different countries including North America, Asia and Europe. The other winners of the competition were from Belgium, Canada and Italy. The awarding ceremonies took place at the Teatro Odeon in Florence. Calalang was also in Italy for an International Concert Tour with the UST Singers around Europe when the awarding ceremonies took place.
Calalang also won the Best Choral Arrangement Prize of a Contemporary Work for his arrangement of Ennio Morricone's My Heart and I from the movie La piovre, awarded at the Florence International Choral Competition in 2015. He teaches choral conducting, piano and choral subjects, and is the Head of the Composition, Conducting, and Music Technology Department of the UST Conservatory of Music.
Ennio Morricone, the personality after whom the competition is named, was born in Rome, Italy and is one of the world's leading and most popular living composers of this generation, known for his orchestral and vocal masterpieces and film scores. He has written music for over 500 films including Cinema Paradiso, Malena, The Legend of 1900, among others. He also has over 100 classical works to his credit. Morricone won the academy award for musical scoring and was awarded the honorary Oscar trophy for his invaluable contribution to the film industry.