Asst. Prof. Fidel G. Calalang, Jr., MA of the Conservatory of Music received an award for his composition in the 2nd International Composers Competition, organized by Academia Musica, in Vienna, Austria. His award-winning composition entitled "Adoramus Te Christe" bagged the 3rd prize in the 1st category of the said competition.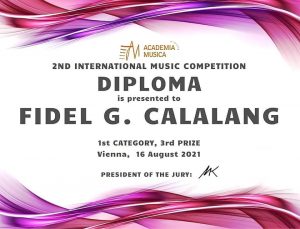 Individual recognitions
As part of the University's Quadricentennial celebration in 2011, Calalang was feted with the "Gawad Lorenzo Ruiz Award for International Achievements." He also received the "Benavides Medal for Outstanding Achievement to the University" for his conducting role in the España-based chorale group and was inducted to the 100 Outstanding Thomasian Alumni who brought honor and glory to the University.
Outside the University, the Thomasian conductor also received prestigious awards and recognitions.
In the 4th Florence International Choir Festival, held in Italy in 2015, Calalang reaped the Grand Prize, as well as two special awards, namely the "Best Interpretation of the Required Piece" and the "Best Contemporary Choral Arrangement Prize" for his arrangement of Ennio Morricone's "My Heart and I", which was from the film La Piovre.
Moreover, Calalang was also one of the prize winners in the "2007 Mga Awiting Bayan Para sa Korong Pilipino", a national choral writing contest organized by the National Commission for Culture and the Arts (NCCA) and the Cultural Center of the Philippines (CCP).
In 2002, he was awarded the "Best Conductor Prize" at the Tonen International Choral Competition in Netherlands and in 1999, he received the top award in the International Composition Competition in California for his 8-voiced work "Ama Namin" (Pater Noster).
The UST Singers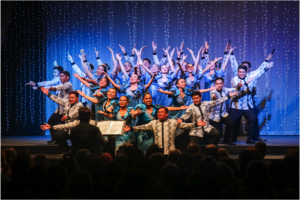 Under his baton, Calalang has brought the UST Singers to over 30 international concert tours around the world. The group has also bagged more than 80 top prizes in different international choral competitions, including the Choir of the World Champion, the 2019 Choir of the World Champion of Champions, and 2017 Grand Prize at the Ave Verum International Choral Competition in Austria, among others.
During the pandemic, solidarity with the Covid-19 frontliners, the UST Singers alumni from around the globe performed Dodjie Simon's "Isang Dugo, Isang Lahi, Isang Musika" (One bloodline, one race, one music) in a music video uploaded on April 23, 2020.
Calalang is the founder and conductor of the University of Santo Tomas Singers (UST Singers), a premiere mixed ensemble of the University.