The team of BS-Electronics Engineering students Ralph Andrei A. Amurao, Maricar DL. Auditor, Justin Anthony B. Buenafe, Jon Carlitos H. Liwag, and Gaysie Mae Quetua was named 2nd runner-up in the Undergraduate Engineering Design Contest 2021. This was in conjunction with the International Conference in Engineering Education Philippines 2021 held on December 4, 2021.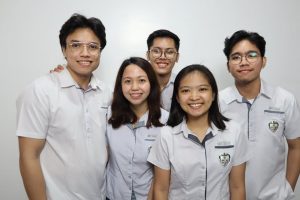 The team's project was called "Vision-based Face Mask and Face Shield Detection using YOLOv5", a proposed automated solution engineered to reduce exposure of authorities who are checking temperatures in public spaces, as well as providing a fast and efficient monitoring.
Asst. Prof. Edison A. Roxas, PhD, PECE of the Department of Electronics Engineering and Research Center for Natural and Applied Sciences was the team's adviser.
Watch their presentation here: https://www.youtube.com/watch?v=txmqnuXALjI