Two scientific research posters presented by UST researchers won in the poster contest held on the occasion of the 2023 International Chemistry Congress of the Kapisanang Kimika ng Pilipinas, held from February 15-17, 2023 at the University of Santo Tomas.
The first award-winning research poster was presented by the team of Prof. Christina Binag, PhD, Asst. Prof. Felicidad Christina Ramirez-Penafiel, PhD, Mr. David Joseph Alzate, MSc (PhD Chemistry student), and BS Chemistry alumnus Leighnard Jien R. Felix. The team worked on the project entitled "Polypyrrole and Rice Straw Biochar on Pineapple-Cotton Fabric as Supercapacitor Electrodes for Symmetrical Coin Assembly." The poster dealt with the concern on the growing global demand for energy that is both clean and renewable, which led to the need to develop energy storage devices. The paper found that biochar had a positive effect on the capacitance of PPY-based fabric electrodes and showed promise as an energy material for supercapacitors.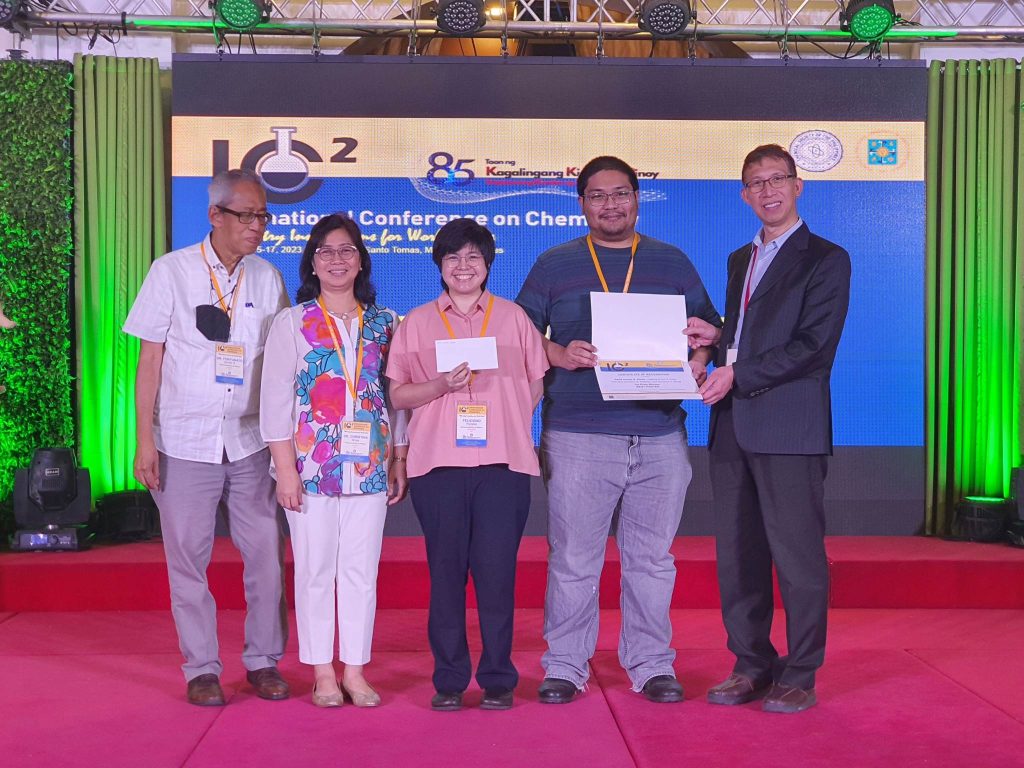 Meanwhile, the second work involved BSc Chemistry students under the guidance of Prof. Bernard John V. Tongol, PhD and Ms. Hannah Grace Geronimo, MSc (Graduate School student). The student researchers were senior students Ms. Maricar Cruz, Ms. Mary Elyssa Ranoa, and recent alumnus Mr. Matthew Villanueva. They worked on the project "Fuel Cell Electrocatalysts for Ethanol Oxidation Reaction (eor) and Oxygen Reduction Reaction (orr) Based on Pyrolyzed Coconut Husk Biomass." The study used coconut husk biochar as a low-cost alternative to Pt-based cathode catalysts for oxygen reduction reaction and as a carbon-based support for Pd-based anode catalysts for ethanol oxidation reaction and found the catalysts to provide promising results for ORR and EOR with sustainable, low-cost source of carbon-based materials.