Anchored on the "community pantry" concept, the Behavioral Science (BES) academic program under the UST Faculty of Arts and Letters launched a series of talks on healthy positivity. The lectures highlighted the combined efforts of BES faculty members, students, and alumni who joined forces in setting up a series of learning sessions using homegrown talents aimed at promoting well-being and a positive mindset amid these challenging times.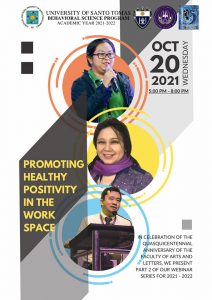 Held on October 20, 2021, was the second session of the series. Titled "Promoting Healthy Positivity in the Workspace," it featured veteran Human Resource practitioners from the Behavioral Science department Ms. Khiara Desiree L. Agnote, Assoc. Prof. Maria Vida Caparas, Ph.D., and Mr. Ferdinand Magkasi.

Agnote discussed "From A to Engagement: A Brief Guide to Thrive at Work and in Life," while Caparas delivered "Achieving Mental Wellness in the New Normal." Magkasi tackled "Maintaining Boundaries: Family, Work, and Leisure."
The first session of the webinar on "Healthy Positivity in the Personal Space" was held on September 24, 2021. It featured three BES faculty members who are seasoned online lecturers on mental health and wellness.

Psychological Association of the Philippines President Dr. Marc Eric S. Reyes, a full professor at the UST Department of Psychology, delivered the opening remarks.

Faculty members teaching professional courses Mr. Gian Carlo M. Ledesma and Mr. Joseph B. De Roxas presented their topics. Ledesma presented "Decision Making and Goal Setting Amid the Pandemic," while De Roxas talked about "Call a Friend: A Student's Guide to Anyone in Crisis."

Capping the first session of the webinar was the lecture on "Self-Love through Self-Compassion" delivered by Interdisciplinary Studies Department Chair and BES Program Coordinator Dr. John Manuel R. Kliatchko.

The webinar, held in partnership with the Behavioral Science Society and Tiger Media Network, was broadcast live on Facebook through TigerTV's page. It was organized as part of the Quasquicentennial celebration of the Faculty of Arts and Letters.