UST College of Fine Arts and Design academic staff Assoc. Prof. Anna Marie H. Bautista presented her paper "What's Beyond the Scene?: Blobbing the Senses through BTS Music Videos for Visual Narratives in Interior Design Education" at the Third BTS Global Interdisciplinary Conference held in Seoul, South Korea from July 13 to 16, 2022.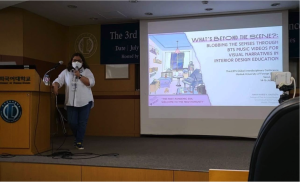 Her presentation was the output of her first-year students' activity in the course Theories of Interior Design, where they were challenged to propose a conceptual design of a one-bedroom condominium unit inspired by BTS music, videos, and stories. Their proposed visual narratives are anchored on the premise of enhancing spaces to uplift the quality of life and how they envision interior spaces in the post-pandemic era.
Bautista also participated in two pre-conference workshops, "The Healing Message of Bantan Sonyeondan: A Self-Reflection Model and Workshop," which focused on the theory of Positive Neuroplasticity, and "A Spring Day for our Dis-ease: Sharing Our Stories of Healing and Hope" which highlighted reflective thinking through storytelling. According to Bautista, the learnings from these workshops can be adapted as part of the approaches to teaching innovations.
Hankuk University of Foreign Studies organized the Third BTS Global Interdisciplinary Conference, gathering academics, fans, practitioners, and artists to explore the different facets and relationships of BTS, the mega-band, and its fandom, the ARMY. The theme of this year's conference was "The Post-Pandemic Era, Welcome to the New Humanity."