Dr. Shaomin Zhang of Guangdong University of Foreign Studies in China lectured on Authorship Analysis: Categories, Methods, and Pilot Studies for the second installment of the Webinar Series on Forensic Linguistics organized by the UST Department of English. This was held on September 17, 2020 via Zoom and streamed on the UST Department of English Facebook page.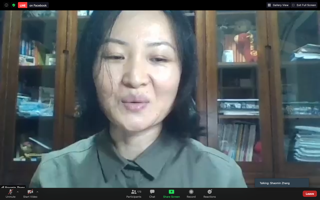 Zhang's lecture focused on authorship attribution analysis and her pilot study's preliminary results in China. She also discussed the excellent work of linguists on several criminal cases in the United Kingdom that eventually led to the International Association of Forensic Linguistics' foundation in 1993. Zhang presented the case of other countries where forensic linguists or experts on authorship analysis are sought as expert witnesses in court procedures in legal cases.
According to UST Department of English Department Chair Prof. Rachelle B. Lintao, Ph.D., who also acted as Moderator of the Open Forum, more than 500 participants from 19 different countries joined the webinar including those from the USA, Germany, England, Australia and the Channel Islands.
Authorship analysis takes center stage in UST Dept. of English webinar on Forensic Linguistics