The Association of Southeast and East Asian Catholic Colleges and Universities will host a free two-day webinar-workshop entitled "ASEACCU Beyond the Pmic: Best Practices towards Sustainable Development" on October 14 and 15, 2021. The webinar-workshop, which is co-organized by the University of Santo Tomas – Manila, will happen via Zoom and streamed on the Facebook Page of the ASEACCU.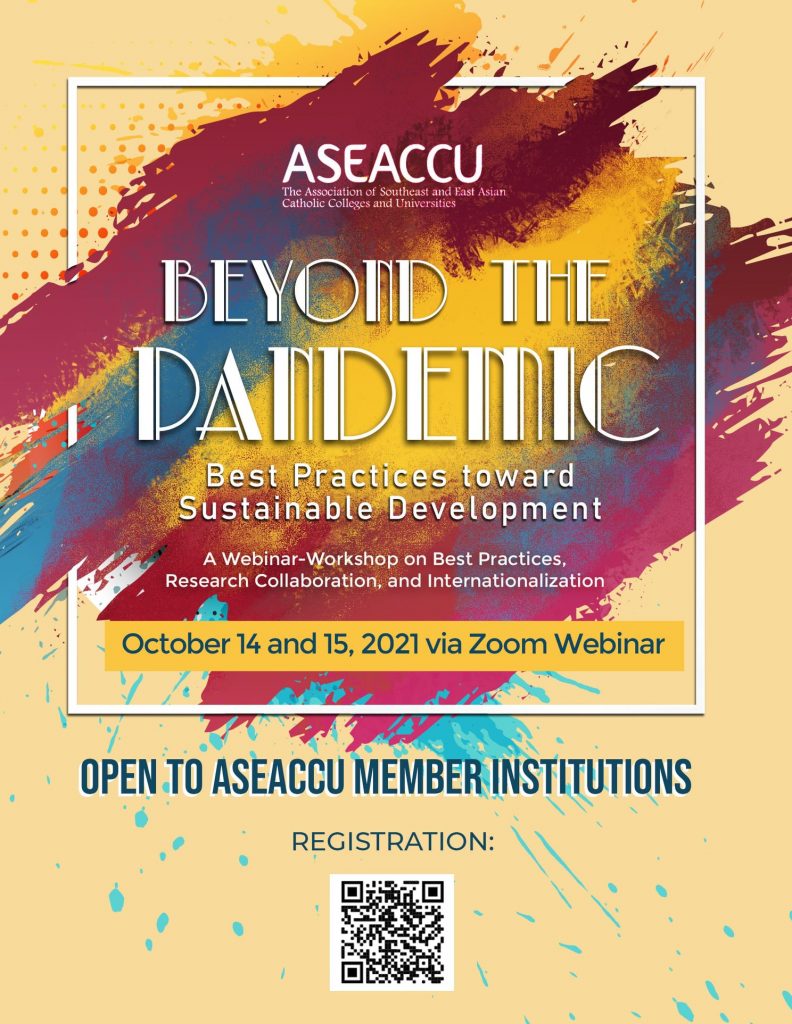 Plenary sessions for ASEACCU member institution officials, academic staff, and students include the keynote address of International Federation of Catholic Universities President Dr. Isabel Capeloa Gil, who will talk about "Challenges and Opportunities to Catholic Higher Educational Institutions in the Time of the Pandemic."
The keynote address will be followed by sessions on Best Practices among ASEACCU Member-Institutions: Teaching & Learning, Wellness and Financial Sustainability. UST's Vice-Rector for Academic Affairs Cheryl R. Peralta will share about Teaching and Learning, while St. Paul Institute Director Phon Sophal will share about Wellness of Being. A talk about Financial Sustainability will also be shared by a speaker from the Catholic University of Korea.
Research and internationalization efforts will be the subjects of the remainder of the plenary sessions and the workshops. On the afternoon of October 14, Australian Catholic University (ACU)'s Prof. Ester Cerin, Assumption University's Dean Marissa Chantamas, and UST's Fr. Nicanor Pier Giorgio Austriaco, O.P. will share their insights about research in higher education in plenary sessions. This will be followed by an exclusive workshop for research officials identified by ASEACCU member institutions. ACU's Mr. Chris Riley will facilitate the workshop.
Internationalization will take center-stage on October 15, with UST's Dr. Lilian Sison, ACU's Mr. Kirk Doyle, and University of Saint Joseph's Prof. Alvaro Barbosa talks about sustainable internationalization in the new reality, internationalization framework for a Catholic University, and internationalization for young developing institutions, respectively. Another exclusive workshop will be held on October 15, this time for internationalization officials. The internationalization workshop will be facilitated by Mr. Glen Chatelier.
Plenary session participants, including ASEACCU member institution officials, academic staff, and students may register via: https://bit.ly/ASEACCU_WEBINAR-REGISTRATION.
Meanwhile, those who will be identified by their institution as workshop participants will receive an e-mail invitation for the workshop registration. See Less