The Office of the Vice-Rector for Academic Affairs will hold a learning session entitled "Artificial Intelligence: Opportunities and Challenges for Teaching and Learning" on February 28, 2023(Tuesday), from 1 p.m. to 4 p.m. via Zoom.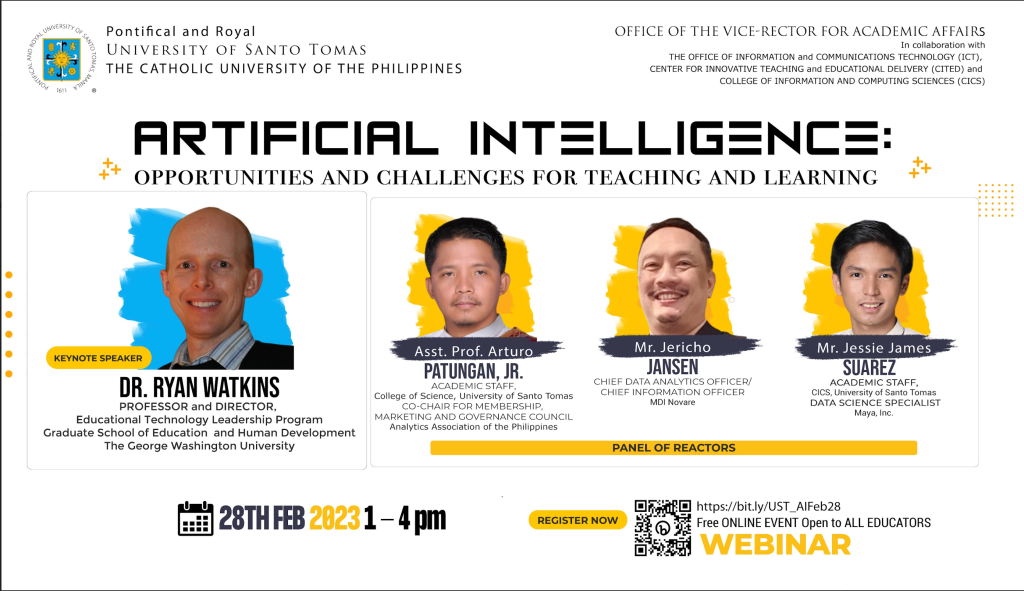 Zeroing in at the use of artificial intelligence in education, as well as examining the rise of ChatGPT, the keynote speaker for this learning session will be Dr. Ryan Watkins of the George Washington University – Educational Technology Leadership Program and Graduate School of Education and Human Development.
The panelists for this event will be Asst. Prof Arturo Patungan, Jr. of the College of Science, Mr. Jericho Jansen, the Chief Data Analytics Officer/Chief Information Officer of MDI Novare, and Mr. Jessie James Suarez of the College of Information and Computing Sciences.
This event is in collaboration with the Center for Innovative Teaching Delivery, the Office of Information and Communications Technology, and the College of Information and Computing Sciences.
Register now: https://bit.ly/UST_AIFeb28