UST Research Center for Culture, Arts and Humanities Director Dr. Joyce
Arriola presented a paper at the Second Memory Studies Association Conference held from December 14 to 16, 2017 at the University of Copenhagen in Copenhagen, Denmark.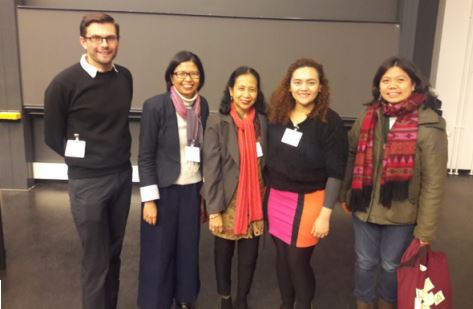 Her paper titled "1950s Filipino Komiks-to-Film Adaptation as Site of Cultural Memory" was read under the panel titled "Memory, Trauma and Postcoloniality in Asian Contexts."
The Memory Studies Association (MSA) is an interdisciplinary organization
of academics, scholars and practitioners of discursive and cultural expressions pertaining to how Memory is lived out in both public and
private spaces and on various levels such as the personal, the national, the international, and the marginal. The MSA has memberships
all over the world. Since memory incorporates both the past and the present, its expressions in literature and cinema have become prime
examples of what scholars call "prosthetic memory" and performative memory.
The paper tackled the role of komiks-tofilm adaptations in in forging cultural memory in 1950s Philippines. A period becomes ripe for memorializing when it becomes a period of great productivity or when a dominant idea or image creates a new kind of imaginary.
In the 1950s popular Philippine life, the nation saw two Golden Ages, namely: The Golden Age of Philippine Cinema and the Golden Age of
Komiks-to-Film Adaptation. Both phenomena and rehabilitation, non-standardized and standardized assessment mobilizing the semi-circular canals, and use of evidence-based assessment tools in diagnosing peripheral vertigo.
The speaker used several teaching methodologies to ensure learning
among participants like didactics, demonstration and return demonstration.
This seminar has enlightened the practicing physical therapists about the importance of assessing the vestibular system in any neurologic or geriatric conditions. It gave the participants practical ways of assessing and treating patients with vertigo.

Dr. Javate delivers a lecture at the International Society of Dacryology and Dry Eye Meeting in Athens. Dr. Javate presents in Lisbon for the European Society of Cataract and Refractive Surgery Meeting in Portugal.
Dr. Javate speaks in Tokyo for the Japan Seminar of Clinical Radio Surgery.
created a colorful imagery through visual iconography, storylines that point to both the colonial past and the contemporary age, and characterizations that represent particular values and worldviews. As mediated memory,
extant komiks-to-film adaptations became also occasions for remediation because cycles of memorializing have been pursued in the name of the conscious project of defining a national identity.

Arriola, who also teaches at the UST Graduate School and the Faculty of Arts
and Letters, read her paper alongside Asian delegates from Ateneo de Manila University and the Royal Netherlands Institute for Southeast Asia and Carribbean Studies that tackled occasions of the intersection between
and among literature, media and history from the Philippines and
Indonesia. The Memory Studies Association Conference is held every
year and is aimed to build theoretical frameworks and methodologies on
how to study practices and texts that bear and/or interrogate memories
of historical events and cultural performances all over the world and
their impact on the present. This year's event has been highlighted
with a Keynote Lecture by renowned scholar Marianne Hirsch and
was culminated with a talk and film screening by Oscar-winning
filmmaker Joshua Oppenheimer