UST Graduate School literature and communication professor, Dr. Joyce L. Arriola, delivered a lecture titled "Finding my Voice as a Researching Self" as part of the second webisode of iShare: Stories of Inspiration and Creative Research by the National Research Council of the Philippines (NRCP). The webisode is a venue for streaming lectures by NRCP Achievement Awardees, particularly their journeys and inspirational messages. Arriola's segment was shot at the UST campus and streamed via zoom on February 24, 2021, as part of the lecture programme. She was awarded the 2018 NRCP Achievement Award in the Humanities in March 2019.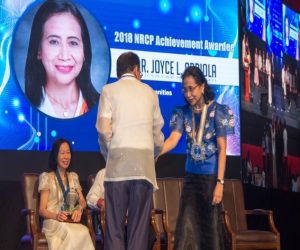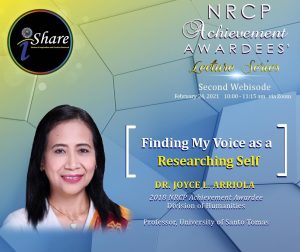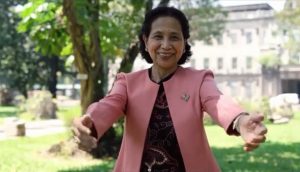 In the particular webisode, Arriola traced her research journey as a scholar from her childhood in Bulakan, Bulacan, a town known as "a land of writers." The town's distinction as having produced several Filipinos "who fought the revolution, joined the Propaganda Movement and did a lot of service to the nation" somehow impressed on her young mind the value of pursuing work as a call to service. She knew she must spend many years reading the best that has been written to be an excellent communicator in the future. Thus, she took literature as her major. After college, as she took her first graduate course at the University of the Philippines, she learned about social science research and the need for social responsibility. Eventually finding a job as Information Officer at the Bureau of Broadcast Services, a line agency of the Office of the Press Secretary, she received proper training in applied communication and media research.
It was in 1993 when Arriola decided to teach and that it "plunged her deep into academic research," which began an illustrious career that would span decades and would produce an extensive publication history ranging from research on the institutional history, organization and academic programs of UST, to literary and cultural studies, and to communication and media studies.
Arriola did not only publish actively, she also got herself involved with research networking activities by joining professional organizations; by lending her expertise as member of editorial boards of reputable research journals; by engaging in international collaborative publication projects; and, by contributing to research policy-making through her involvement with the NRCP, the CHED Technical Panel for Literature, and the NCCA National Committee for Literary Arts. The UST Graduate School is pivotal to Arriola's dynamic research career. In 2003, she obtained her Ph.D. Literature degree, Summa Cum Laude. Her doctoral dissertation titled "Postmodern Filming of Literature: Sources, Contexts and Adaptations" was published in 2006 by the UST Publishing House. A year later, the publication won the National Book Award for Film/Film Criticism.
Arriola's initiatives led to the establishment of the MA Communication program in 2001, which was cited as one of the Top 200 Best Master Programs Worldwide by EDUNIVERSAL Masters Ranking for The Best Masters and MBA Worldwide in 2011. Under her leadership, the MA Literature program received its Level 4 PACUCOA accreditation, the Ph.D. Literature its Level 1 accreditation and the MA Communication its Preliminary Level 1 candidacy. A mentor to many master's and doctoral students, Arriola claims that she has been happy "to breath life" onto other people who would like to pursue the life of the mind.
The St. Antoninus of Florence Award, the UST Graduate School Outstanding Alumni Award, was conferred upon Arriola in 2014.  When she won an NRCP Achievement Award in 2018, it also marked the first year the indexed publications became a more emphasized criterion for the NRCP award. Arriola's award was proof that humanities researchers can penetrate the high stakes world dominated by metrics and scientific quantification.