The Apostolic Nuncio to the Philippines His Excellency Most Rev. Charles John Brown, D.D., presided over the Enthronement Mass for the image of Our Lady of the Holy Rosary held on September 23, 2021, at the UST Chapel (Santísimo Rosario Parish Church).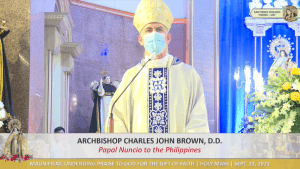 In anticipation of the Feast of the Holy Rosary on October 7, and the Feast of the Santísimo Rosario Parish Church, which was celebrated on October 3, the first Sunday of the month, the Enthronement Rites had the theme "Magnificat: Unending Praise to God for the Gift of Faith."
Most Rev. Brown, in his homily, emphasized the need to consistently follow the humility of Mary, saying that, "If we follow her path, we follow the path of true wisdom: to receive the Word of God in the most intimate part of our hearts, to give birth to Jesus in our own way, by living our Catholic Faith in the world, which is such great need of light and truth."
One path to be close to Mary is through the consistent praying of the Rosary, which is a prayer that equalizes all who recite it. Kings, nuncios, popes, theologians or philosophers, and the simplest people of any city in the world, including Manila can pray it [because everyone is a] child of Mary, living our vocation to holiness in different ways, said the Papal Nuncio.
Echoing the call of Pope Francis to pray the Rosary more, especially in this time of pandemic, Most Rev. Brown urged the faithful to "Please pray the Rosary, especially beginning this October, the month dedicated to Our Lady. Ask Mary for the grace to be faithful to prayer, to be filled with humility, and to be like Mary – always trusting and confident in God's Love for us."
Novena Masses were held from September 24 to October 2, 2021, with a Mass for the Feast of the Parish held on October 3 with Santísimo Rosario Parish Priest Rev. Fr. Paul Talavera, O.P., as main presider.