For their antibacterial hydrogel research, a team of UST Graduate School students under the supervision of their adviser Dr. Oliver Villaflores won Best Oral Presentation at the 2020 Research Forum of the Philippine Association of Medical Technologists (PAMET).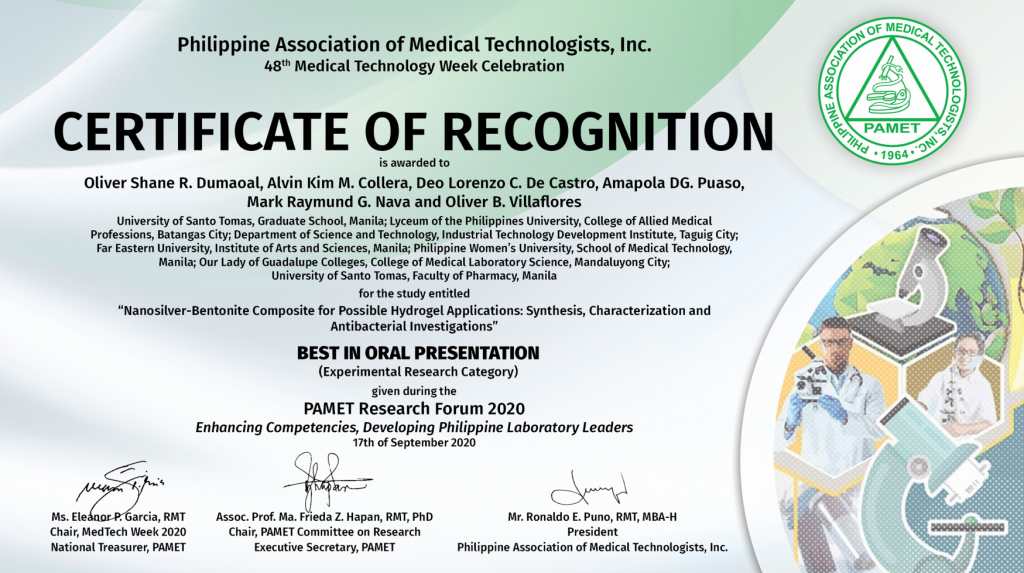 The team members, namely, Alvin Collera, Deo Lorenzo de Castro, Oliver Shane Dumaoal, Amapola Puaso, and Mark Raymund G. Nava, collaborated on their work titled "Nanosilver-Bentonite Composite for possible hydrogel applications: Synthesis, characterization, and antibacterial investigations." All members of the group are Medical Technologists by profession and part of the Graduate School MedTech-Pharmacy Cluster, except for Collera, who works for the Department of Science and Technology and is taking up his Ph.D. in Chemistry under the Natural Sciences Cluster.
The two components were examined because many studies on silver and bentonite showed evidence of their individual antibacterial, healing, and biocompatibility properties, shared Nava in an email interview. He said that silver was known for its low toxicity effects on human cells and its antibacterial activity, while bentonite (commonly known as Aztec Healing Clay) is used in facial masks and other beauty products.
"Biomaterials are constantly being developed and designed to produce for medical use. Although many of the currently used biomaterials have been recognized to be effective in their respective purposes, many of which are costly and difficult to prepare. The group felt the need to use natural biomaterials which are accessible, easy to procure and sustainable," explained Nava, who said that they chose to pursue the topic upon the encouragement of their mentor, Dr. Villaflores.
The group found out that the synthesized Silver-Bentonite nanocomposite had antibacterial activity against a representative gram-positive bacteria (Staphylococcus aureus) and a representative gram-negative bacteria (E. coli). Nava clarified that the integration of the Silver-Bentonite nanocomposite to an agar-based matrix can inhibit the growth of microorganisms, suggesting its potential for agar hydrogel applications and the possibility of the nanocomposite as a biomaterial for wound dressings.
Having been recognized for the "best oral presentation" despite the shift to an online medium, Nava was asked about the experience compared to in-person conferences. To this, he acknowledged that, "The experience of presenting our research online was something new to us, as all of us were more conversant with the traditional oral presentation."
"However, online presentation allowed us to interact more with the audience since the research forum committee also allowed us to answer questions coming from the audience through the chat facility of the video conferencing application. With the online medium, we were also able to better solicit suggestions from our participants for our future research," Nava explained.
"Beyond the applause audible in live in-person conferences, the online medium also allowed us to receive inspiring and motivating messages from our audience," he added.
"We hope to continue our research after the pandemic to establish the potential of the biomaterial, Nanosilver-bentonite composite, for wound dressing," said Nava.