Arts and Letters faculty member Dr. Emmanuel Jeric A. Albela presented his research paper, "The Application of Immanuel Kant's Critique of Practical Reason in the Study of the Filipino Elite's Vested Interests in the Country," during the 9th International Conference of Southeast Asia 2021 (ICONSEA).
Hosted by the Universiti Malaya – Department of Southeast Asian Studies. The event was held virtually from December 2 to 4, 2021.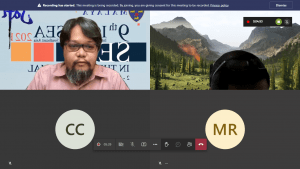 Albela's paper, studied the developments of elitism in the Philippines through the lens of Immanuel Kant's Critique of Practical Reason.

Through Kantian Hermeneutics, the study successfully highlighted the concept of moral growth and incorporated it in the significant events of Philippine history from the colonial period up until the independence of the country in 1945.

A researcher under the Research Center for Culture, Arts and the Humanities, Albela was joined by other Southeast Asian Studies scholars in presenting their research on Southeast Asian studies, particularly the significant impact of the pandemic to Southeast Asian countries.

The International Conference of Southeast Asia is an annual global research forum organized by the Department of Southeast Asian Studies of the Universiti Malaya. This year, due to the pandemic, ICONSEA held its bi-annual event through virtual conferencing platforms.

With the theme "Southeast Asia in the New Normal", the ICONSEA 2021 online research forum discussed the different challenges of the ongoing political crises in Southeast Asia, particularly academic studies and research on the pandemic and its relation to Southeast Asian studies, the vulnerabilities of migration, food security, the economy, political changes in Southeast Asia, the environment, arts and culture, tourism, maritime issues, human rights, and other related relevant themes.