Assoc. Prof. Jocelyn F. Agcaoili, MSPT, MHPEd, Director of the UST Graduate School – Center for Continuing Professional Education and Development (CCPED), was a speaker in the Commission on Higher Education's "Moving Forward the Philippine Higher Education, Meeting the Emerging Needs of Adult Learners" webinar held on May 17, 2021 in line with the celebration of the 1st National Higher Education Day.
In her sharing, Agcaoili presented the thrusts and programs of the CCPED, a center accredited by the Professional Regulation Commission as a provider of Continuing Professional Development programs. Not to be dragged down by the pandemic, Agcaoili disclosed the center's fully online webinars and certificate courses for Academic Year 2021-2022, ranging from medication therapy management, student affairs and services capacity building, and interprofessionalism in healthcare, among others.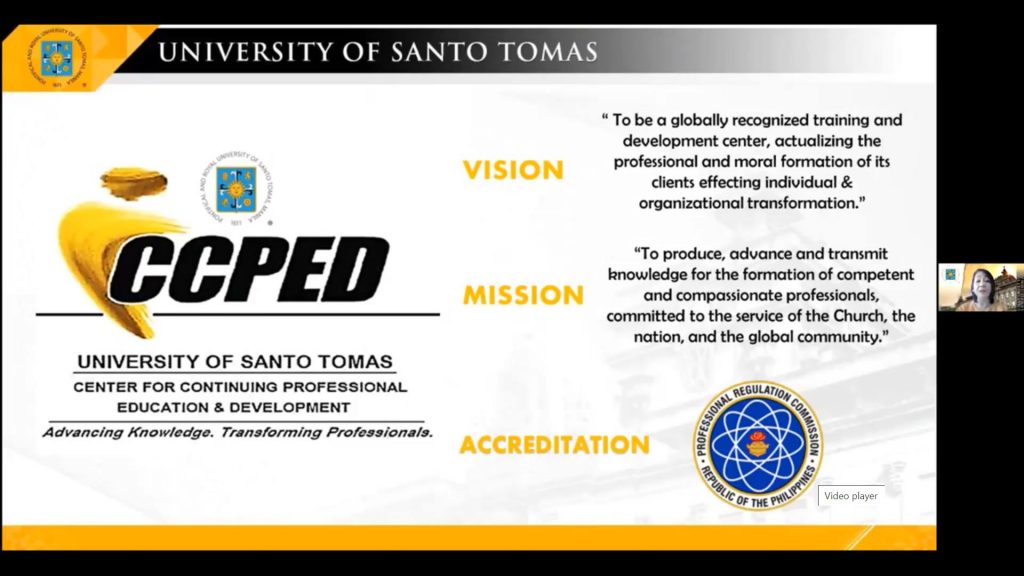 The CCPED Director likewise outlined the four-step process the team is undertaking to "design/redesign training programs to be at par with global standards and relevant to the needs of professionals," namely the reflection, planning, action, and evaluation phases. She also discussed the plan of CCPED to offer Coursepacks that are short, fully asynchronous self-paced online learning modules, containing a series of courselets that can be taken independently, or as part of a series that shall make up a complete course in a Graduate School curriculum. Each Coursepack is designed for specific learning outcomes with aligned activities and assessments for the learner to complete and to possibly gain CPD units and if taken in full will be equivalent to Graduate School course credit units.
Agcaoili, a recipient of an international training grant from the Commission on Higher Education and the Canadian Bureau for International Education, underwent training in the Ontario Institute for Studies in Education.
Prior to heading CCPED, Agcaoili was the Dean of the College of Rehabilitation Sciences. A respected physical therapy educator, she was recognized as the Most Outstanding Professional in Physical Therapy in 2009.