The Research Center for Health Sciences will be sponsoring a webinar series entitled the "Advanced Good Clinical Practice Workshop" on April 15 and on 29, 2023, from 8 a.m. to 12 noon.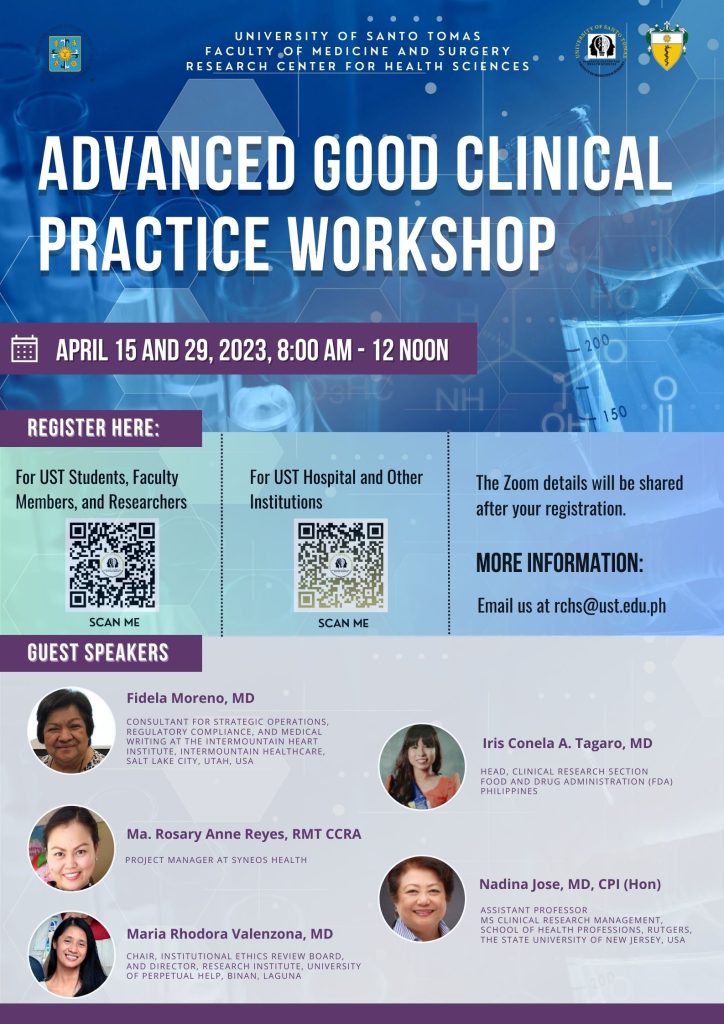 The speakers for this event will be Ms. Fidela Moreno, MD, consultant for Strategic Operations, Regulatory Compliance, and Medical Writing at the Intermountain Heart Institute-Intermountain Healthcare; Ms. Ma. Rosary Anne Reyes, RMT, CCRA, project manager at Syneos Health; Maria Rhodora Valenzona, MD, chair of Institutional Ethics Review Board and Director of University of Perpetual Help – Research Institute; Ms. Iris Conela A. Tagaro, MD, head of Food and Drug Administration Philippines- Clinical Research Section; and Asst. Prof. Ms. Nadina Jose, MD, CPI of School of Health Professions, Rutgers, The State University of New Jersey.
For interested participants, kindly register through the link below.
Registration: For UST Students, Faculty Members, and Researchers: https://bit.ly/ustrchsgcp-1
For UST Hospital and other Institutions: https://bit.ly/ustrchsgcp-2
For more information, please email rchs@ust.edu.ph