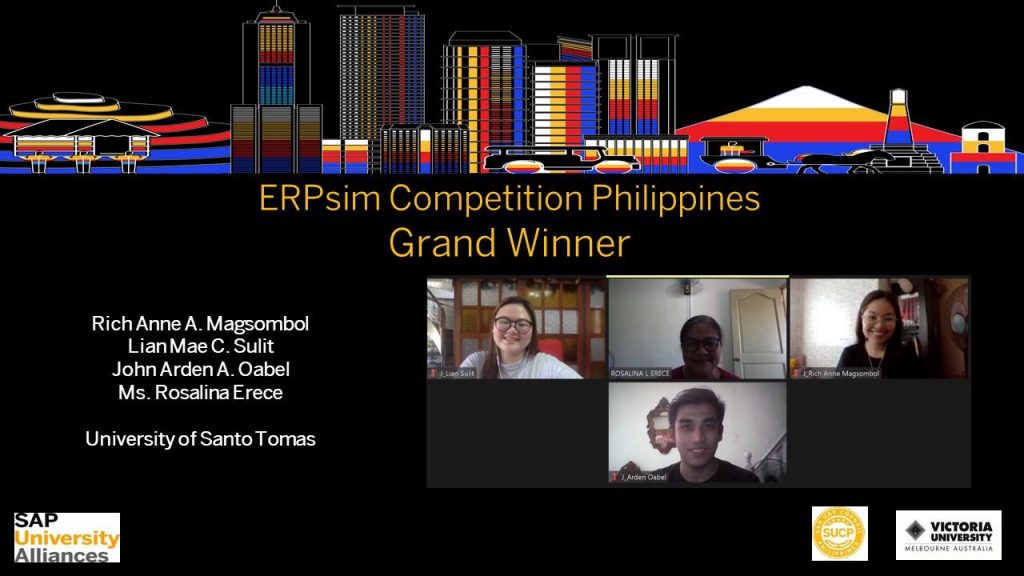 The team from the UST-Alfredo M. Velayo College of Accountancy composed of Rich Anne A. Magsombol, Lian Mae C. Sulit, and John Arden Aya Oabel was hailed as the grand winner in the recently concluded SAP ERP Simulation Competition – Distribution Game held on November 20, 2020 via Zoom. 
The competition is a business simulation for SAP ERP and SAP S/4HANA in which participants use a real ERP system to manage their virtual company in a competitive market. The competition was composed of three rounds with each round equivalent to running a business for 20 days. The goal of the first round is to maximize sales and minimize expenses. The second round is about inventory management, while the last round includes sales forecasting. The team with the highest company value after the three rounds will be declared as winner. In the end, the UST team generated the highest company value and was hailed as champion, followed by the teams from Asia Pacific University and University of Cordillera in second and third place, respectively. 
The 2020 SAP ERP Simulation Competition was organized by SAP University Alliance and facilitated by Victoria University, Melbourne Australia and hosted by SAP University Council Philippines. It was participated by various student-teams from different colleges and universities in the country.
The UST team, coached by Ms. Rosalina L. Erece and Asst. Prof. Apollo D. Layug, will compete against student teams from other countries in December 2020 for the SAP ERP Simulation Competition – Manufacturing Game.